Optimization Design of Coal Dryer Using Genetic Algorithm in Power Plant
Faculty of Advanced Technology and Multidiscipline, Universitas Airlangga

Engineering Physics Department, Institut Teknologi Sepuluh Nopember
Abstract views:
216
,
PDF downloads:
142
Keywords:
Genetic Algorithm, Low Rank Coal, Coal Dryer, Steam Extraction Turbine
Abstract
Coal that is often used in Steam Power Plants is a type of Low Rank Coal (Low Rank Coal) which has a caloric value of 4200 kcal / kg with a moisture content of 40%.  Coal with water content that reaches 40% can cause the efficiency process of the plant to be not optimal. Low efficiency values will cause the use of electricity to increase and the combustion process to be incomplete so that it can cause many losses to the Steam Power Plant. From this problem, there needs to be a process of drying coal in order to reduce water content, the technology used in the process of drying coal is coal dryer. Design of coal dryer required source of steam or heat for drying process. Steam Power Plant there is steam waste extraction from turbines that can be used as a heat source to heat coal. If this extraction vapor is utilized, it can reduce the load from the condenser. The amount of turbine extraction steam that can be received by the coal dryer depends on the design of the coal dryer, because the design process of the coal dryer will affect the availability of energy in the coal dryer. This paper will discuss about optimization calculation with genetic algorithm method, to obtain the best design of coal dryer so that the heat received can be maximized so that the drying process becomes faster.
Downloads
Download data is not yet available.
References
Batubara Indonesia, Perkembangan Produksi Batubara Nasional, Jakarta, 1995.
Puslitbang, Teknologi Mineral dan Batubara, Jakarta, 2011.
Mujumdar, Arun S., , ed. Handbook Of Industrial Drying, CRC Press,, 2006.
Yori Al Milzam, "Optimization Design Of Coal Dryers Using Waste Heat of Flue Gas," Institut Teknologi Sepuluh Nopember, 2014.
Juwairiah, dkk., "Genetic Algorithm for Optimizing Travelling Salesman Problems with Time Windows (TSP-TW)," International Journal of Artificial Intelligence & Robotics (IJAIR), vol. 1, pp. 1-8, 2019.
Liu, Ming, et al., "Thermodynamic Analysis Of Pre-Drying Methods For Pre-Dried Lignite-Fired Power Plant," Energy, pp. 107-118, 2013.
Zukhri, Zainuddin., Algoritma Genetika untuk Menyelesaikan Masalah Optimasi, Yogyakarta, 2014.
Mithcel, Melanie, ed. Handbook An Introduction Genetic Algorithm Drying, Bradfood book,199.
Mular Andrew, Halbe N. Doung, Handbook Mineral and Processing Plant, Design, Pratice, and Control, 2005.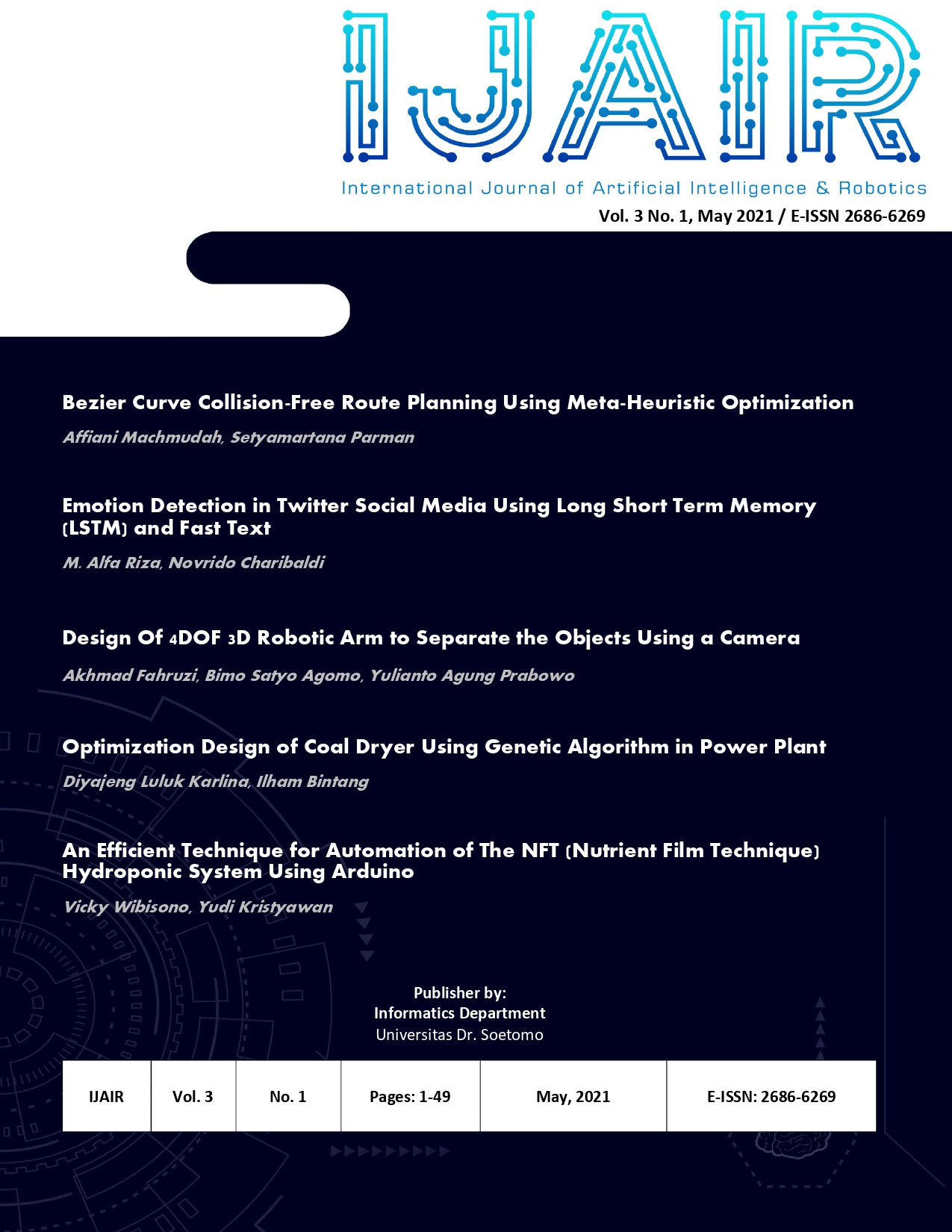 How to Cite
, & . (2021). Optimization Design of Coal Dryer Using Genetic Algorithm in Power Plant. International Journal of Artificial Intelligence & Robotics (IJAIR), 3(1), 36-43. https://doi.org/10.25139/ijair.v3i1.3825
Copyright (c) 2021 Diyajeng Luluk Karlina
This work is licensed under a Creative Commons Attribution-ShareAlike 4.0 International License.
Authors who publish with International Journal of Artificial Intelligence & Robotics (IJAIR) agree to the following terms:
Authors retain copyright and grant the journal right of first publication with the work simultaneously licensed under a Creative Commons Attribution License (CC BY-SA 4.0) that allows others to share the work with an acknowledgment of the work's authorship and initial publication in this journal.

Authors are able to enter into separate, additional contractual arrangements for the non-exclusive distribution of the journal's published version of the work (e.g., post it to an institutional repository or publish it in a book), with an acknowledgment of its initial publication in this journal.

Authors are permitted and encouraged to post their work online (e.g., in institutional repositories or on their website) prior to and during the submission process, as it can lead to productive exchanges, as well as earlier and greater citation of published work.