Smart Room Lighting System for Energy Efficiency in Indoor Environment
Rafika Rizky Ramadhani

Politeknik Elektronika Negeri Surabaya

Mike Yuliana

Politeknik Elektronika Negeri Surabaya

Aries Pratiarso

Politeknik Elektronika Negeri Surabaya
Abstract views:
54
,
PDF downloads:
50
Keywords:
Smart Lighting, Smart Room Lighting System, Internet of Things, Fuzzy Logic, Dimming System
Abstract
The building sector absorbs 40% of global energy sources. Energy demand in the building sector is dominated by around 60 – 70% electricity, mainly used for air conditioning, water pumping machines, and lighting. On average, artificial lighting can consume 37% of the total electrical energy needs. Meanwhile, sunlight enters the room through the morning window from noon until the afternoon. Using unnecessary or excessive room lighting when there is a natural light source in the room consumes a relatively large total energy requirement of the building. There is a need for a smart lighting system specifically for indoors for efficient energy management and a lighting control system integrated with IoT, which utilizes the intensity of natural light in a room. In this paper, we proposed that the Smart Room Lighting System uses the fuzzy logic method based on ESP32 to control the lighting in the room to save electricity usage for a room lamp. The result of the tool's design, it can control the light starting from bright, dim, and lights go out. The results obtained by the Smart Room Lighting System can reduce power consumption by up to 93% and energy by up to 70%.
Downloads
Download data is not yet available.
References
A. K. Sikder, A. Acar, H. Aksu, A. S. Uluagac, K. Akkaya and M. Conti, "IoT-enabled Smart Lighting System for Smart Cities," in 2018 IEEE 8th Annual Computing and Communication Workshop and Conference (CCWC), Las Vegas, NV, USA, 2018.
IEA, "Buildings," IEA, Paris, 2022.
L. Pompei, L. Blaso, S. Fumagalli and F. Bisegna, "The impact of key parameters on the energy requirements for artificial lighting in Italian buildings based on standard EN 15193-1:2017," Energy and Buildings, vol. 263, p. 112025, 2022.
M. Kuusik, T. Varjas and A. Rosin, "Case Study of Smart City Lighting System with Motion Detector and Remote Control," in 2016 IEEE International Energy Conference (ENERGYCON), 2016, 2016.
D. Siswanto and S. Mujiyanto, Indonesian Energy Outlook 2019, Jakarta: National Energy Council, 2019.
Ericsson, "Internet of Things forecast—Ericsson Mobility Report," 2020. [Online]. Available: https://www.ericsson.com/en/mobilityreport/reports.
A. A. Simiscuka and G.-M. Muntean, "REMOS-IoT-A Relay and Mobility Scheme for Improved IoT Communication Performance," IEEE Access, vol. 9, pp. 73000-73011, 2021.
Y. S. Cho, J. Kwon and H. Y. Kim, "Design and Implementation of LED Dimming System with Intelligent Sensor Module," Journal of Information and Communication Convergence Engineering, vol. 11, no. 4, pp. 247-252, 2013.
G. Chiesa, D. D. Vita, A. Ghadirzadeh, A. H. M. Herrera and J. C. L. Rodriguez, "A fuzzy-logic IoT lighting and shading control system for smart buildings," Automation in Construction, vol. 120, p. 103397, 2020.
M. Putri and S. Aryza, "DESIGN OF SECURITY TOOLS USING SENSOR LIGHT DEPENDENT RESISTOR (LDR) THROUGH MOBILE PHONE," INTERNATIONAL JOURNAL FOR INNOVATIVE RESEARCH IN MULTIDISCIPLINARY FIELD, vol. 4, no. 10, pp. 168-173, 2018.
I. Imawati, T. W. Utomo and W. Kurniawan, "LUMOS (Lighting Usage Management and Optimization System):Sistem Cerdas Sebagai Solusi Manajemen Penggunaan Listrik pada Pencahayaan Bangunan di Indonesia," in CITEE, Bali, 2018.
N. Gentile, T. Laike and M.-C. Dubois, "Daylight Harvesting Control Systems," in Environment and Electrical Engineering (EEEIC), 2015 IEEE 15th International Conference, Rome, 2015.
N. E. Ifeanyichukwu, A. Evan, O. Godson C, M. U. Faruq and M. AbdulqadirKabir, "Daylight Harvesting As a Control System in the Reduction of Energy Consumption," IOSR Journal of Mechanical and Civil Engineering (IOSR-JMCE), vol. 18, no. 2, pp. 34-44, 2021.
A. Cziker, M. Chindris and A. Miron, "Implementation of Fuzzy Logic in Daylighting Control," in International Conference on Intelligent Engineering Systems, Budapest, Hungary, 2007.
S. Yoo, J. Kim, C. Y. Jang and H. Jeong, "A sensor-less LED dimming system based on daylight harvesting with BIPV systems," Optics Express, vol. 22, no. 1, pp. 132-143, 2013.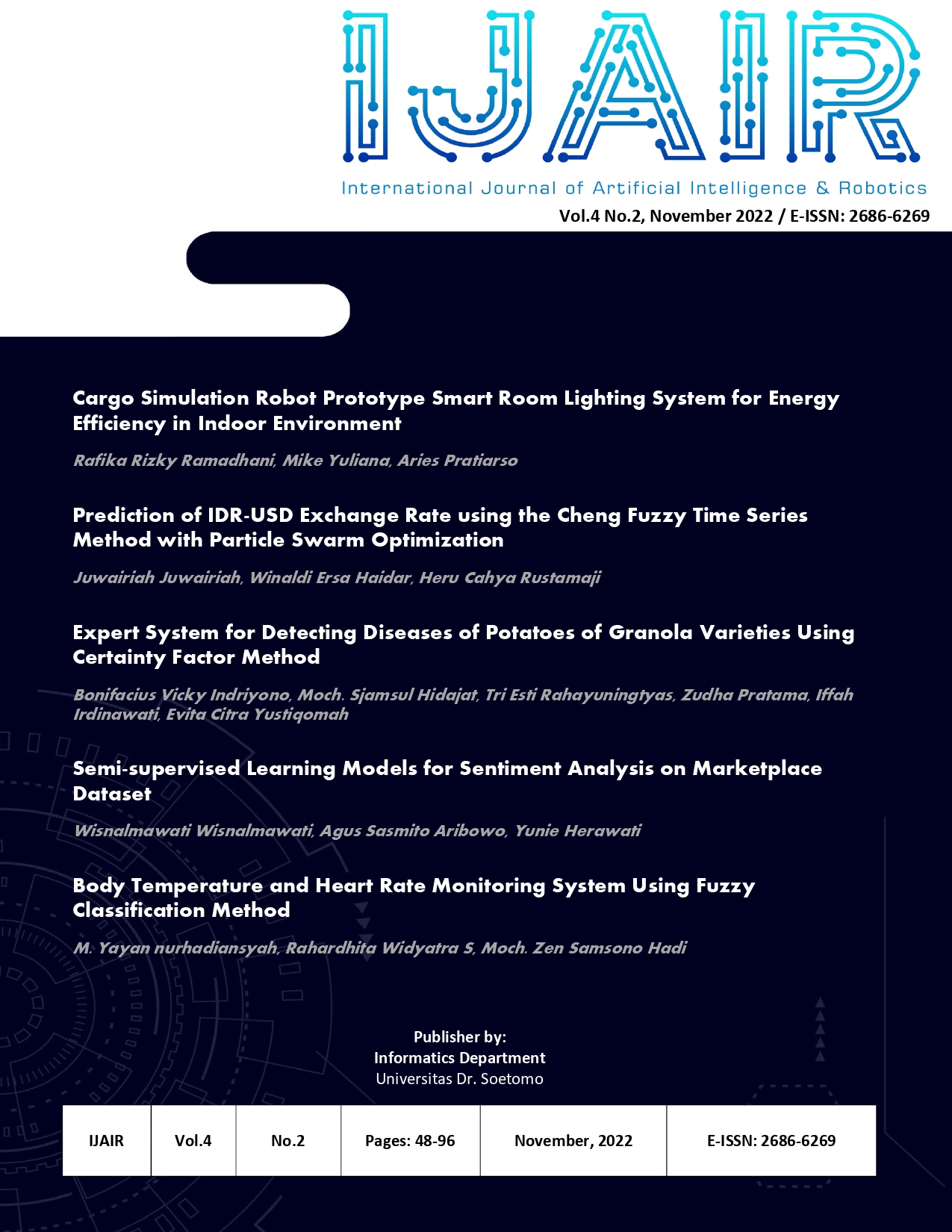 How to Cite
Ramadhani, R. R., Yuliana, M., & Pratiarso, A. (2022). Smart Room Lighting System for Energy Efficiency in Indoor Environment. International Journal of Artificial Intelligence & Robotics (IJAIR), 4(2), 48-58. https://doi.org/10.25139/ijair.v4i2.5266
Copyright (c) 2022 Rafika Rizky Ramadhani, Mike Yuliana, Aries Pratiarso
This work is licensed under a Creative Commons Attribution-ShareAlike 4.0 International License.
Authors who publish with International Journal of Artificial Intelligence & Robotics (IJAIR) agree to the following terms:
Authors retain copyright and grant the journal right of first publication with the work simultaneously licensed under a Creative Commons Attribution License (CC BY-SA 4.0) that allows others to share the work with an acknowledgment of the work's authorship and initial publication in this journal.

Authors are able to enter into separate, additional contractual arrangements for the non-exclusive distribution of the journal's published version of the work (e.g., post it to an institutional repository or publish it in a book), with an acknowledgment of its initial publication in this journal.

Authors are permitted and encouraged to post their work online (e.g., in institutional repositories or on their website) prior to and during the submission process, as it can lead to productive exchanges, as well as earlier and greater citation of published work.