Analisis Perbandingan Biaya Dan Waktu Antara Kosntruksi Baja Dan Beton (Studi Kasus : Proyek Pergudangan Logistik Mako Ksatrian Yon 1 Marinir Gedangan Sidoarjo)
Cost And Time Comparison Analysis Between Steel And Concrete Construction (Case Study: Mako Ksatrian Battalion 1 Marines Gedangan Sidoarjo Logistics Warehousing Project)
Ning Wahyuni

Universitas Dr. Soetomo

Kusnul Yakin

Universitas dr.Soetomo Surabaya

Maulidya Octaviani

Universitas dr.Soetomo Surabaya
Abstract views:
50
,
PDF downloads:
196
Keywords:
Kata kunci: Gudang; Beton; Baja; Biaya;Waktu.
Abstract
Dalam suatu proyek gudang pemilihan jenis struktur dapat mempengaruhi biaya pelaksanaan dari pembuatan gudang.Hal ini menjadi salah satu pertimbangan dalam perencanaan pembuatan gudang berdasarkan budget yang di miliki untuk membuat gudang tersebut.Penelitian ini bertujuan untuk memahami dan mengetahui biaya dan waktu pelaksanaan proyek gudang apabila terbuat dari konstruksi beton.Metode yang dilakukan berupa kualitatif dengan analisa menghitung struktur alternatife beton dan dari analisa tersebut dapat dibandingkan besarnya efisien waktu dan biaya. Dari hasil perhitungan yang telah dilakukan didapatkan besar biaya konstruksi baja sebesar Rp. 719.089.177,23 sedangkan total untuk konstruksi beton sebesar Rp. 843.829.369,82 Adapun selisih waktu untuk pekerjaan konstruksi baja 87 hari dan untuk konstruksi beton 101 hari.
References
Alma'mun Iga. 2016. " Studi Analisa Biaya penggunaan Struktur Baja dan Struktur Beton bertulang Gedung RSJ V.L Ratumbuysang".
Futariani Yovi. 2016. "Kajian struktur baja sebagi alternatif review design struktur beton bertulang".
Hartono Tri. 1987. "Perbandingan Analisa biaya antara jembatan konstruksi beton bertulang dan konstruksi baja".
Husodo Erdityo. 2009. "Studi banding Biaya pelaksanaan Jembatan Teknik Sastra dari Struktur baja dan Struktur Beton".
Ibrahim, H.Bachtir. 1993. "Rencana Dan Estimate Real Of Cost". Cetakan ke -2.Jakarta : Bumi Aksara
Niron John. W., 1992, "Rencana Anggaran Biaya Bangunan", Asona, Jakarta
Masitoh Agusta Ambarwati. 2017. "Analisis perbandingan metode pelaksanaan biaya pada jembatan baja komposit dan jembatan beton bertulang konvensional di desa Pengkol kab Boyolali".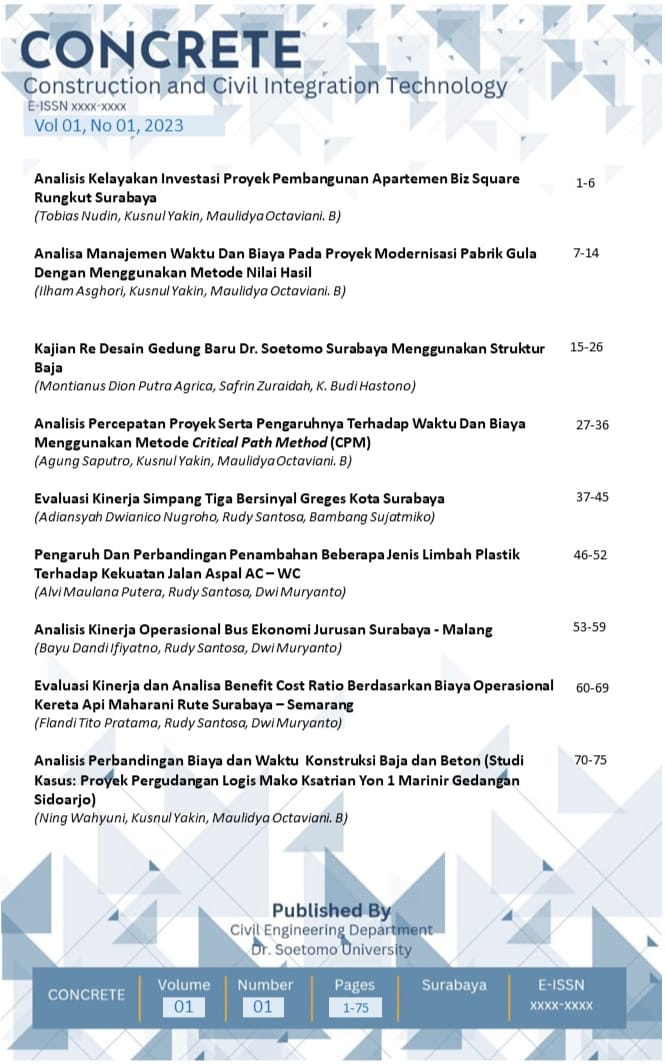 How to Cite
Wahyuni, N., Kusnul Yakin, & Maulidya Octaviani. (2023). Analisis Perbandingan Biaya Dan Waktu Antara Kosntruksi Baja Dan Beton (Studi Kasus : Proyek Pergudangan Logistik Mako Ksatrian Yon 1 Marinir Gedangan Sidoarjo): Cost And Time Comparison Analysis Between Steel And Concrete Construction (Case Study: Mako Ksatrian Battalion 1 Marines Gedangan Sidoarjo Logistics Warehousing Project). CONCRETE: Construction and Civil Integration Technology, 1(01), 70-75. https://doi.org/10.25139/concrete.v1i01.6172
Authors who publish with CONCRETE: Construction and Civil Integration Technology agree to the following terms:
Authors retain copyright and grant the journal right of first publication with the work simultaneously licensed under a Creative Commons Attribution License (CC BY-SA 4.0) that allows others to share the work with an acknowledgment of the work's authorship and initial publication in this journal.
Authors are able to enter into separate, additional contractual arrangements for the non-exclusive distribution of the journal's published version of the work (e.g., post it to an institutional repository or publish it in a book), with an acknowledgment of its initial publication in this journal.
Authors are permitted and encouraged to post their work online (e.g., in institutional repositories or on their website) prior to and during the submission process, as it can lead to productive exchanges, as well as earlier and greater citation of published work.