Technology Acceptance Model: An Analysis of Human-Computer Interaction in The UASBN Educational Game
Rini Agustina

Information System Study Program, Faculty of Science & Technology, Universitas PGRI Kanjuruhan Malang

Enike Dwi Kusumawati

Animal Husbandry Study Program, Faculty of Animal Husbandry Universitas PGRI Kanjuruhan Malang

Faisal Amri

Economics Education Study Program, Faculty of Economics and Business, Universitas PGRI Kanjuruhan Malang

Dodit Suprianto

Information Technology Study Program, Faculty of Information Technoloogy, Politeknik Negeri Malang
Abstract views:
161
,
PDF downloads:
138
Keywords:
Educational Game, UASBN, SE, Technology Acceptance Model, TAM, Human-Computer Interaction (HCI)
Abstract
The Ujian Akhir Sekolah Berstandar Nasional (UASBN) educational game is designed as a means of training for students to face school final exams in 6th grade. Before implementing this educational game, it must be tested first related to user acceptance of the technology created or from the human-computer interaction (HCI) side. A total of 173 students tested this educational game, and then data was collected based on the criteria from the Technology Acceptance Model (TAM). The measurement criteria include Perceived Usefulness (TPU) and Perceived Ease of Use (TPE) variables, each of which has aspects of functionality (TFL), accessibility (TAC), and Learning Goal Orientation (TLGO). In contrast, the dependent variable is Behaviour Intention (TBI). The SEM (AMOS) and SPSS statistical packages were used to analyze this HCI evaluation study. A questionnaire with 21 questions was used to collect the necessary data for analysis. The findings of the estimation demonstrate that each component of TAM contributes pretty significantly. In total, user acceptance of the UASBN educational game is a TPE variable contributing 39% to the UASBN human-computer interaction game. Meanwhile, the TPU variable and its variants contributed 73% to the human-computer interaction game UASBN, and Meanwhile, TBI gave a role of 50.4% to the human-computer interaction game UASBN education. This shows that human-computer interaction with educational games through the technology acceptance model criteria contributed 50.4%, while 49.6% was contributed by other variables not raised in this research. This demonstrates that the educational requirements for student gaming training can be satisfactorily met by users and produce favorable outcomes.
References
R. Windawati and H. D. Koeswanti, "Pengembangan Game Edukasi Berbasis Android untuk Meningkatkan hassil Belajar Siswa di Sekolah Dasar," J. Basicedu, vol. 5, no. 2, pp. 1027–1038, 2021, doi: 10.31004/basicedu.v5i2.835.
Santoso, "Pengembangan Media Game Edukasi Sebagai Sistem Informasi Alternatif Ice Breaking Pembelajaran Di Masa Pandemi," Ecodunamika J. Pendidik. Ekon., vol. 4, no. 1, pp. 1–6, 2021.
A. Savitri, "Pemanfaatan Game Edukasi Wordwall Sebagai Evaluasi Pembelajaran Bahasa Indonesia Secara Daring Di Perguruan Tinggi," ISoLEC 2021 Proc. Digit. Transform. Lang. Educ. Cult. Challenges Oppor., no. 2014, pp. 159–166, 2021.
K. Kisno et al., "Teachers' Learning Loss Diminution Through Self-Phased Learning with Guru Binar," Indones. J. Educ. Stud., vol. 24, no. 1, pp. 17–26, 2021, [Online]. Available: https://ojs.unm.ac.id/Insani/article/view/19473/11042.
R. Agustina and M. A. Barkah, "Pemanfaatan Augmented Reality (Ar) Sebagai Media Pembelajaran Interaktif Pengenalan Candi-Candi di Malang Raya Berbasis Mobile Android," Bimasakti, vol. 1, no. 5, pp. 1–6, 2017.
R. Agustina and A. Chandra, "Analisis Implementasi Game Edukasi 'the Hero Diponegoro' Guna Meningkatkan Hasil Belajar Siswa Di Mts. Attaroqie Malang," J. Teknol. Inf., vol. 8, no. 1, pp. 24–31, 2017.
E. Retnoningsih and A. N. Alfian, "Human Computer Interaction Pengelolaan Open Journal Systems berbasis Interaction Framework," Bina Insa. Ict J., vol. 7, no. 1, p. 95, 2020, doi: 10.51211/biict.v7i1.1338.
A. Al-Aulamie, "Enhanced Technology Acceptance Model to Explain and Predict Learners' Behavioural Intentions in Learning Management Systems," University of Bedfordshire, 2013.
R. Agustina, W. Kamdi, S. Hadi, Muladi, and D. Nurhadi, "Influence of the Principal's Digital Leadership on the Reflective Practices of Vocational Teachers Mediated by Trust, Self Efficacy, and Work Engagement," Int. J. Learn. Teach. Educ. Res., vol. 19, no. 11, pp. 24–40, 2020, doi: 10.26803/ijlter.19.11.2.
C. M. Chou, C. H. Shen, H. C. Hsiao, and T. C. Shen, "Factors Influencing Teachers' Innovative Teaching Behaviour With Information And Communication Technology (ICT): The Mediator Role Of Organisational Innovation Climate," Educ. Psychol., vol. 39, no. 1, pp. 65–85, 2019, doi: 10.1080/01443410.2018.1520201.
R. D. Susanto, R. Tjandinegara, V. Iskandar, and E. W. Kartika, "Technology Acceptance Model (Tam) Analysis of the Use of Ovo Application in F&B Service Industry in Indonesia," J. Tour. Culin. Entrep., vol. 1, no. 1, pp. 1–14, 2021, doi: 10.37715/jtce.v1i1.1796.
W. K. Bong, A. Bergland, and W. Chen, "Technology Acceptance and Quality of Life among Older People Using a TUI Application," Int. J. Environ. Res. Public Health, vol. 16, no. 23, 2019, doi: 10.3390/ijerph16234706.
W. N. Syahril and B. Rikumahu, "Penggunaan Technology Acceptance Model (Tam) Dalam Analisis Minat Perilaku Penggunaan E-Money Pada Mahasiswa Universitas Telkom," J. Mitra Manaj., vol. 3, no. 2, pp. 201–214, 2019, doi: 10.52160/ejmm.v3i2.201.
T. Jap, "The Technology Acceptance Model of Online Game in Indonesian Adolescents," Makara Hum. Behav. Stud. Asia, vol. 21, no. 1, p. 24, 2017, doi: 10.7454/mssh.v21i1.3497.
R. Baki, B. Birgoren, and A. Aktepe, "Identifying Factors Affecting Intention to use in Distance Learning Systems," Turkish Online J. Distance Educ., vol. 22, no. 2, pp. 58–80, 2021, doi: 10.17718/tojde.906545.
W. P. P. Handayani and M. Harsono, "Aplikasi Technology Acceptance Model (Tam) Pada Komputerisasi Kegiatan Pertanahan," J. Econ., vol. 12, no. 1, p. 13, 2016, doi: 10.21831/economia.v12i1.8415.
S. A. Sivo, C. H. Ku, and P. Acharya, "Understanding How University Student Perceptions of Resources Affect Technology Acceptance in Online Learning Courses," Australas. J. Educ. Technol., vol. 34, no. 4, pp. 72–91, 2018, doi: 10.14742/ajet.2806.
R. Agustina and Y. S. Dwanoko, "Analisis Future Time Perspective (FTP) dan Kematangan Karir Terhadap Kesiapan Kerja Mahasiswa Sistem Informasi Menghadapi Dunia Kerja Bidang Informatika," Smatika J., vol. 11, no. 01, pp. 43–47, 2021, doi: 10.32664/smatika.v11i01.571.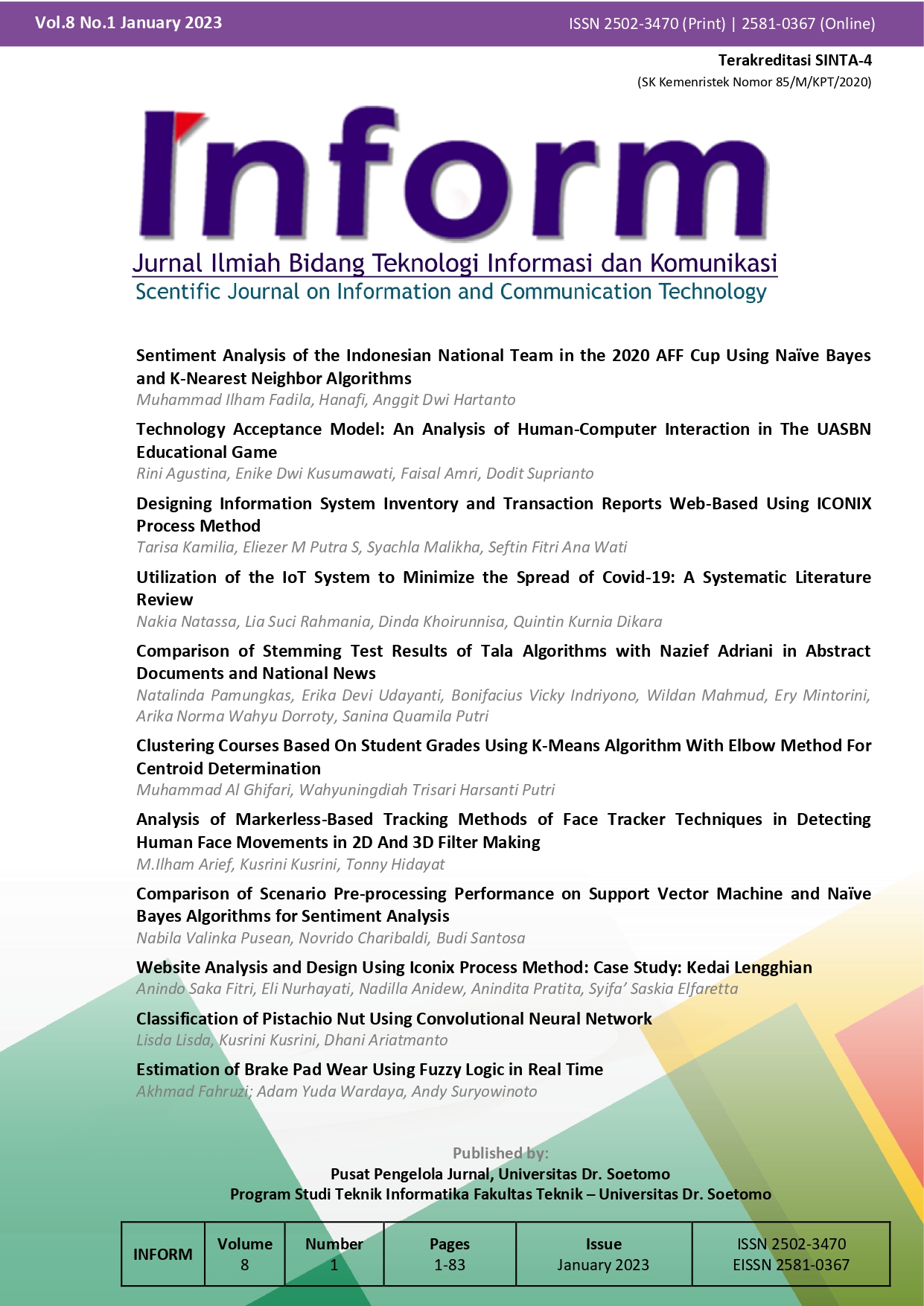 How to Cite
Agustina, R., Dwi Kusumawati, E., Amri, F., & Suprianto, D. (2023). Technology Acceptance Model: An Analysis of Human-Computer Interaction in The UASBN Educational Game. Inform : Jurnal Ilmiah Bidang Teknologi Informasi Dan Komunikasi, 8(1), 7-13. https://doi.org/10.25139/inform.v8i1.5129
Copyright (c) 2023 Rini Agustina
This work is licensed under a Creative Commons Attribution-ShareAlike 4.0 International License.
Authors who publish with Inform: Jurnal Ilmiah Bidang Teknologi Informasi dan Komunikasi agree to the following terms:
Authors retain copyright and grant the journal right of first publication with the work simultaneously licensed under a Creative Commons Attribution License (CC BY-SA 4.0) that allows others to share the work with an acknowledgment of the work's authorship and initial publication in this journal.

Authors are able to enter into separate, additional contractual arrangements for the non-exclusive distribution of the journal's published version of the work (e.g., post it to an institutional repository or publish it in a book), with an acknowledgment of its initial publication in this journal.

Authors are permitted and encouraged to post their work online (e.g., in institutional repositories or on their website) prior to and during the submission process, as it can lead to productive exchanges, as well as earlier and greater citation of published work.