Analisis Perbandingan Metode Kuz-Ram dengan Digital Image Analysis Terhadap Ukuran Fragmentasi dalam Desain Peledakan Produksi Batugamping Pada PT. Semen Tonasa
Universitas Lakidende Unaaha
Abstract views:
84
,
PDF downloads:
797
Keywords:
Limestone, Fragmentation Size, Kuz-Ram, Spilt-Dekstop
Abstract
Semen Tonasa is a company that operating in cement industry at east Indonesia region with the base material is limestone. PT. Semen Tonasa is located in Pangkajene Islands Regency, South Sulawesi Province. Mining method used is quarry method with blasting as a mine activity to open the materials. In every blasting activity needed the size of fragmentations is not more than 80 cm ≤ 15%. That size is obtained base on the capability of crusher mouth. Analysis method of rocks fragmentation that used was digital image analysis actually on the field with using split-dekstop software and theoretically with Kuz-Ram method. That thing was taken to compare percentage distribution of size fragmentation of blasting activity. The result of fragmentation analysis on mining area at PT. Semen Tonasa, was conducted on two locations of data interpretation that were at B7 and B8. The geometries applied at Quarry B7 was burden of as 5,04 m and a spaced of 6,03 resulting fragmentation size ≥ 80 or 8,15% and at Quarry B8 was a burden of 5,2 m and a spaced of 5,7 m resulting fragmentation size 5,61%, these were based on split-Dekstop method. In other hand that results were contrary with the prediction of Kuz-Ram method by the percentage of fragmentations at Quarry B7 equal to 24,17% and B8 equal to 22,99% with the size of fragmentation ≥ 80 cm.
References
Ash, R.L, 1967., Design of Blasting Round, Surface Mining, B.A. Kennedy Editor, Society for Mining, Metallurgy, and Explotion, Inc. Page. 565-584
Cunningham, C,V,B. 1983. The Kuz-Ram model for prediction of fragmentation from blasting, First International Symposium on Rock Fragmentation by Blasting, Lulea, Sweden.
Ediyanto. 2013., Diktat Pengantar Peledakan. Universitas Pembangunan Nasional "Veteran" Yogyakarta.
Franklin, J.A dan Katsabanis, T. 1996. Measurement of Blast Fragmentation, A.A Balkema, Rotterdam.
Ghadafi M.a., Komar S., dan Sudarmono D, 2012., Kajian Teknis Geometri Peledakan Berdasarkan Analisis blastability dan digging rate alat gali muat di pit MT-4 tambang air laya PT. Bukit Asam (Persero) Tbk, Tanjung Enim Sumatera Selatan, Fakultas Teknik Universitas Sriwijaya, Palembang.
Higgins, M., Bobo, T., Girdner, K., Kemeny, J. And Seppala, V., 1999. Intergrated software tools and methodology for optimization of blast fragmentation. Gen. Proc Of The 25 th Ann Conf on Expl And Blasting Tech., Nashville.
Hustrulid, W., 1999., Blasting Principles For Open Pit Mining. General Design Concepts, Rotterdam.
Jimeno, C.L. 1995. Drilling and Blasting Of Rocks. A.A Bakema, Rotterdam.
Koesnaryo S., 1988. Bahan Peledak dan Metode Peledakan, Universitas Pembangunan Nasional "Veteran" Yogyakarta.
Lilly P.A., 1986. An Empirical method of assessing rock mass blastability. In: Proceedings of the large open pit planning conference, Parkville, Victoria, Australia
Nobel, D., 2011. Efficient Blasting Techniques. Blast Diynamics.
Suwandi, A., 2004. Kegiatan Peledakan di tambang terbuka. Jakarta.
Singgih, S., 2006. Teknik Peledakan. Universitas Pembangunan Nasional "Veteran" Yogyakarta.
Venkantesh, M. 2010., Limestone Rock Fragmentation Analysis using WipFrag. Departemen of Mining Engineering National Institude Of Technology Rourkela.
Zubair, Siddiqui, F.I, Ali Shah, S.M, Behan, M.Y. 2013. Measurements of size distribution of blasting rock using digital image processing, Departement of mining engineering, Meran University of engineering and technology, Jamshoro.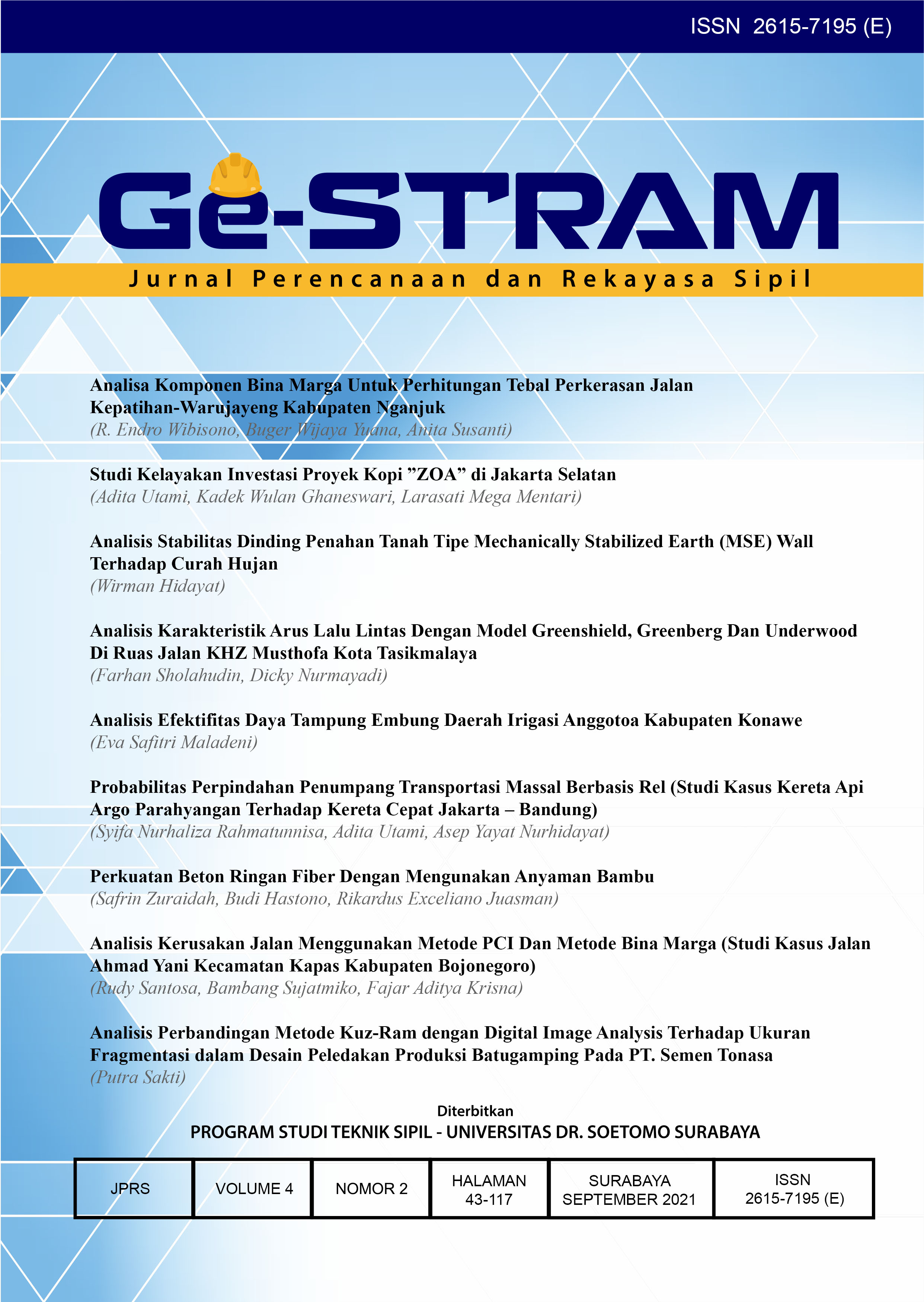 How to Cite
(2021). Analisis Perbandingan Metode Kuz-Ram dengan Digital Image Analysis Terhadap Ukuran Fragmentasi dalam Desain Peledakan Produksi Batugamping Pada PT. Semen Tonasa. Ge-STRAM: Jurnal Perencanaan Dan Rekayasa Sipil, 4(2), 112-117. https://doi.org/10.25139/jprs.v4i2.4109
Copyright (c) 2021 putra sakti
This work is licensed under a Creative Commons Attribution-ShareAlike 4.0 International License.
Authors who publish with this journal agree to the following terms:


Authors retain copyright and grant the journal right of first publication with the work simultaneously licensed under a Creative Commons Attribution-ShareAlike 4.0 International License that allows others to share the work with an acknowledgement of the work's authorship and initial publication in this journal.
Authors are able to enter into separate, additional contractual arrangements for the non-exclusive distribution of the journal's published version of the work (e.g., post it to an institutional repository or publish it in a book), with an acknowledgement of its initial publication in this journal.
Authors are permitted and encouraged to post their work online (e.g., in institutional repositories or on their website) prior to and during the submission process, as it can lead to productive exchanges, as well as earlier and greater citation of published work (See The Effect of Open Access).
This work is licensed under a
Creative Commons Attribution-ShareAlike 4.0 International License
.