Authentication Comparison of Telecommunications Technology Using A3, A8, A5 and Rijndael Algorithms
Abstract views:
422
,
PDF downloads:
251
Keywords:
Mobile Telecommunication, CDMA (Code Division Multiple Access), GSM (Global System for Mobile communication).
Abstract
The purpose of the research is to analyze the comparison of technology, network and security aspect between CDMA and GSM (Global System for Car communication). Using a comparative analysis research method between CDMA and GSM technologies that includes comparisons of network, technology, and security aspects. Using references from previous research on cellular telecommunications, the introduction of CDMA and GSM technologies to aspects of technology, networking and security. The results show that the technological aspect, CDMA used advanced spectrum technology that can provide superior sound quality and GSM uses a spectrum division technology that makes communication constant. From the network aspect, CDMA used direct-spreading spectrum (DS-CDMA) and GSM network is divided into three main systems: switching system (SS), base station system (BSS), and operating system and support (OSS). As well as security aspects, the GSM uses A3 and A8 algorithms for authentication and A5 algorithms were used in the process of sending information.But the security system using this algorithm, found weaknesses that allow data tapping or customer identity fraud. While CDMA offers aspects of network security by developing encryption algorithms.For encryption techniques used Rijndael algorithm is safe and very fast. A3 and A8 algorithms can recognize the customer's identity well, and the A5 algorithm can transmit the accuracy of information between MS and BTS.
References
S. Neeraja dan G. Sasibhushana Rao, "Comparative study on handoff algorithms for GSM and CDMA cellular networks," International Journal of Electrical and Computer Engineering, 2017.
O. O. Fagbohun, "Comparative studies on 3G,4G and 5G wireless technology," IOSR Journal of Electronics and Communication Engineering Ver. I, 2014.
J.-Z. Sun, J. Sauvola, dan D. Howie, "Features in Future: 4G Visions From a Technical Perspective," in GLOBECOM'01. IEEE Global Telecommunications Conference, 2001.
S. Chen dan J. Zhao, "The requirements, challenges, and technologies for 5G of terrestrial mobile telecommunication," IEEE Communications Magazine, 2014.
K. G. S. Venkatesan, "Comparison of CDMA and GSM mobile technology," Middle - East Journal of Scientific Research, 2013.
R. Sustika, "Analisis Aspek-Aspek Perencanaan BTS pada Sistem Telekomunikasi Selular Berbasis CDMA," INKOM, vol. 1, no. 1, hal. 31–38, 2007.
L. O. NUR, "ANALISA UNJUK KERJA CDMA 2000 1X PADA KANAL AWGN DAN RAYLEIGH FADING," Majalah Ilmiah UNIKOM, vol. 7, no. 1, hal. 125–136.
R. R. K. Dewanti, T. Maulana, dan A. Aminulloh, "SISTEM KOMUNIKASI CDMA."
S. U. Wicaksono, "KAJIAN SISTEM KEAMANAN JARINGAN CDMA."
N. Sharma dan M. Yadav, "A Review Paper on GSM Security and Encryption," in National Conference on Innovations in Micro-electronics, Signal Processing and Communication Technologies, 2016, hal. 88–90.
E. Ihsanto dan T. W. Riyanto, "DISAIN DAN IMPLEMENTASI SISTEM PENJEJAK POSISI KENDARAAN DENGAN GPS VIA SMS," Jurnal Ilmiah SINERGI, 2013.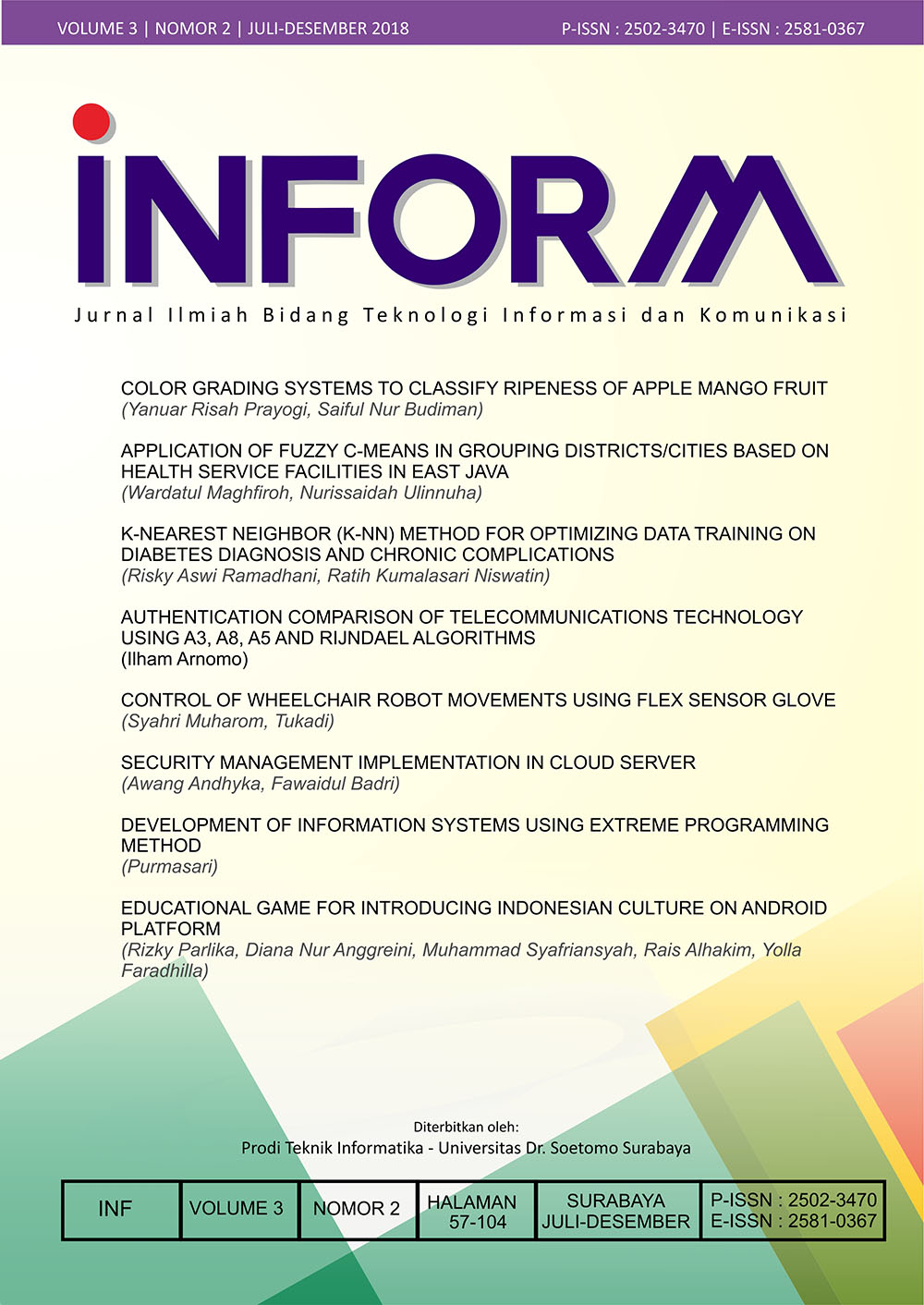 How to Cite
(2018). Authentication Comparison of Telecommunications Technology Using A3, A8, A5 and Rijndael Algorithms. Inform : Jurnal Ilmiah Bidang Teknologi Informasi Dan Komunikasi, 3(2), 74-83. https://doi.org/10.25139/inform.v3i2.1031
Section
Volume 3 No. 2 2018
Copyright (c) 2018 Ilham Arnomo
This work is licensed under a Creative Commons Attribution-ShareAlike 4.0 International License.
Authors who publish with Inform: Jurnal Ilmiah Bidang Teknologi Informasi dan Komunikasi agree to the following terms:
Authors retain copyright and grant the journal right of first publication with the work simultaneously licensed under a Creative Commons Attribution License (CC BY-SA 4.0) that allows others to share the work with an acknowledgment of the work's authorship and initial publication in this journal.

Authors are able to enter into separate, additional contractual arrangements for the non-exclusive distribution of the journal's published version of the work (e.g., post it to an institutional repository or publish it in a book), with an acknowledgment of its initial publication in this journal.

Authors are permitted and encouraged to post their work online (e.g., in institutional repositories or on their website) prior to and during the submission process, as it can lead to productive exchanges, as well as earlier and greater citation of published work.