Rancangan Estimasi Biaya dengan Teknik COCOMO II dan Neuro Fuzzy Studi Kasus: Sistem Informasi Rumah Sakit
Universitas Dr. Soetomo Surabaya

Universitas Dr. Soetomo Surabaya
Abstract views:
1042
,
PDF (Bahasa Indonesia) downloads:
3737
Abstract
Estimasi biaya pengembangan perangkat lunak merupakan proses pemrediksian biaya yang harus dikeluarkan dalam seluruh tahapan pembangunan perangkat lunak dengan menggunakan beberapa parameter. Terdapat beberapa metode dan kakas bantu dalam proses estimasi biaya. Salah satu kakas yang populer adalah COCOMO II. Demi meningkatkan keakuratan hasil estimasi biaya pembangunan perangkat lunak dengan menggunakan COCOMO II, diusulkan penggunaan metode-metode bantu dalam proses pengolahan data input maupun data output. Pemodelan Neuro-Fuzzy merupakan salah satunya. Metode ini digunakan dalam proses pengolahan data-data input, yakni pada proses penerjemahan nilai kualitatif menjadi nilai pengali kuantitatif yang kemudian digunakan sebagai nilai input bagi COCOMO II. Pada beberapa penelitian, metode ini terbukti dapat meningkatkan akurasi hasil estimasi biaya COCOMO II dengan dataset COCOMO '81. Namun demikian, diperlukan sebuah penelitian lanjutan dengan dataset proyek pembangunan perangkat lunak sesungguhnya untuk menguji peningkatan akurasi estimasi biaya dengan menggunakan COCOMO II yang dioptimasi dengan metode Neuro-Fuzzy.Pada makalah rancangan ini diusulkan penggunaan dataset pembangunan sistem informasi rumah sakit. Kontribusi yang diharapkan dari makalah ini adalah dapat diketahui signifikansi pengaruh penambahan satu cost driver baru yaitu tipe rumah sakit pada proses estimasi biaya pembangunan perangkat lunak dengan teknik COCOMO II dan Neuro-Fuzzy.
Kata Kunci
— Estimasi biaya, pembangunan perangkat lunak, COCOMO II, Neuro-fuzzy
References
[1] Jorgensen, M., Shepperd, M., "A systematic review of software development cost estimation studies". IEEE Transactions on Software Engineering 33 (1), 33–53, 2007
[2] Boehm, B., Abts, C., Chulani, S. "Software development cost estimation approaches – a survey". Annals of Software Engineering 10, 177–205, 2000.
[3] Huang, X., Ho, D., Ren, J., Capretz, L.F. "Improving the COCOMO model usinga neuro-fuzzy approach". Department of ECE, University of Western Ontario, London, Ont., Canada N6A 5B9 dan Toronto Design Center, Motorola Canada Ltd., Markham, Ont., Canada L6G 1B3, 2006.
[4] Attarzadeh, I. Ow, S.H. "A Novel Algorithmic Cost Estimation Model Based on Soft Computing Technique". Department of Software Engineering, Faculty of Computer Science and Information Technology, University of Malaya, 50603 Kuala Lumpur, Malaysia. Journal of Computer Science 6 (2): 117-125, 2010
[5] Kalbande, D.R. Singhlal, P. Deotale, N. Shah, S., Thampi, G.T. "An Advanced Technology Selection Model using Neuro Fuzzy Algorithm for Electronic Toll Collection System". University of Mumbai, India. International Journal of Advanced Computer Science and Applications, Vol. 2, No. 4, 2011.
[6] Sandhu, P.S., Prashar, M., Bassi, P., Bisht, A. "A Model for Estimation of efforts in Development of Software Systems". World Academy of Science, Engineering and Technology, 56, 2009
[7] http://promisedata.org/repository/data/nasa93/nasa93.arff
[8] Peraturan Menteri Kesehatan Republik Indonesia Nomor 340/Menkes/Per/Iii/2010, Tentang Klasifikasi Rumah Sakit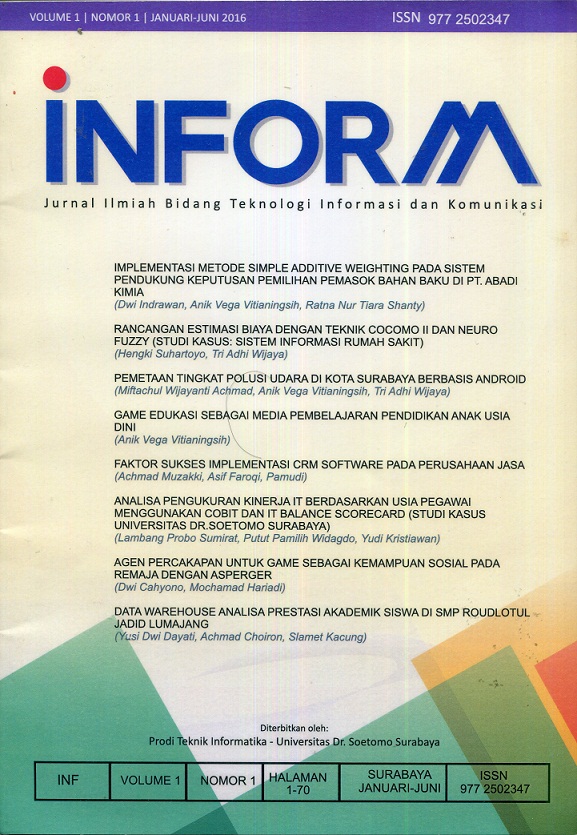 How to Cite
, & . (2017). Rancangan Estimasi Biaya dengan Teknik COCOMO II dan Neuro Fuzzy Studi Kasus: Sistem Informasi Rumah Sakit. Inform : Jurnal Ilmiah Bidang Teknologi Informasi Dan Komunikasi, 1(1). https://doi.org/10.25139/inform.v1i1.215
Section
Volume 1 No. 1 2016
Copyright (c) 2017 Hengki Suhartoyo, Tri Adhi Wijaya
This work is licensed under a Creative Commons Attribution-ShareAlike 4.0 International License.
Authors who publish with Inform: Jurnal Ilmiah Bidang Teknologi Informasi dan Komunikasi agree to the following terms:
Authors retain copyright and grant the journal right of first publication with the work simultaneously licensed under a Creative Commons Attribution License (CC BY-SA 4.0) that allows others to share the work with an acknowledgment of the work's authorship and initial publication in this journal.

Authors are able to enter into separate, additional contractual arrangements for the non-exclusive distribution of the journal's published version of the work (e.g., post it to an institutional repository or publish it in a book), with an acknowledgment of its initial publication in this journal.

Authors are permitted and encouraged to post their work online (e.g., in institutional repositories or on their website) prior to and during the submission process, as it can lead to productive exchanges, as well as earlier and greater citation of published work.