Pemodelan Tanaman Virtual Menggunakan Lindenmayer System
Institut Teknologi Adhi Tama Surabaya
Abstract views:
865
,
PDF (Bahasa Indonesia) downloads:
1193
Keywords:
Pemodelan tiga dimensi, pohon, render, lindenmayer system
Abstract
Kontribusi komputer dalam bidang grafis berkembang sangat cepat, aplikasinya mulai dari sains, dunia industri manufaktur, medis, hingga militer. Berangkat dari hal tersebut pentingnya pengembangan sistem yang dapat mengurangi waktu saat render dan meminimalkan menggunakan sumber daya perangkat keras computer, sehingga dapat digunakan untuk komputer dengan skala kecil sekelas komputer personal. Menggunakan metode penelitian system development life cycle yang terdiri atas tahap menganalisa dan merancang pada pemodelan tiga dimensi tanaman, khususnya pohon menggunakan algoritma lindenmayer system, dimana penumbuhan percabangan dahan dan ranting, hingga daun, mengambil patokan koordinat objek pada titik percabangan untuk menumbuhkan bagian cabang lain pada pohon. Pada hasil penelitian didapatkan bahwa render dengan jumlah 130,904 vertice render 2 detik, daun segi delapan 2,57 detik, dan bentuk bulat dengan waktu render 3,6 detik. Simulasi pemodelan tanaman virtual tercapai.
References
[1] Aristid Lindenmayer. 1968, "Mathematical models for cellular interaction in development", Parts I and II. Journal of Theoretical Biology, 18:280–315.
[2] Atris Suyantohadi, 2010, "Artificial Life pada pemodelan Pertumbuhan Tanaman Varietas Kedelai Menggunakan Pendekatan Intelligence", Desertasi, Institut Teknologi Sepuluh Nopember Surabaya.
[3] David A. Bray, Benn Konsynski, 2006, "Virtual Worlds, Virtual Economies", Virtual Institutions, Social Science Research Network", pp.1-30.
[4] Hitoshi Kanda, Jun Ohya, 2003, "Efficient Realistic Method for Animating Dynamic Behavior of 3D Botanical Trees", IEEE Computer Graphics and Applications, pp. 89-92.
[5] Kendall&Kendall, 2003, "Analisis dan Perancangan Sistem Jilid 1", PT. Prehallindo, Jakarta.
[6] Jason P. Weber, 2008, Fast Simulation of Realistic Trees, IEEE Computer Graphics and Applications, pp. 67-75.
[7] Przemyslaw Prusinkiewicz, Aristid Lindenmayer, 2004, "The Algorithmic Beauty of Plants", Springer Verlag.
[8] Ismael Gracia, Mateu Sbert, and L. Szirmay-Kalos, 2005, "Tree Rendering with BillBoard Clouds", Budapest, 3rd Hungarian Confrence, Computer Graphic and Geometry.
[9] Weibo Wu, Xiaosheng Liu, Zixue Feng, and Youliang Chen, 2006, "Study on the Simulation of Trees", IEEE Computer Graphics and Applications, pp. 847-848.
[10] Qing Xiong, Xin-yuan Huang, 2009, "Speed Tree-Based Forest Simulation System", IEEE Computer Graphics and Applications.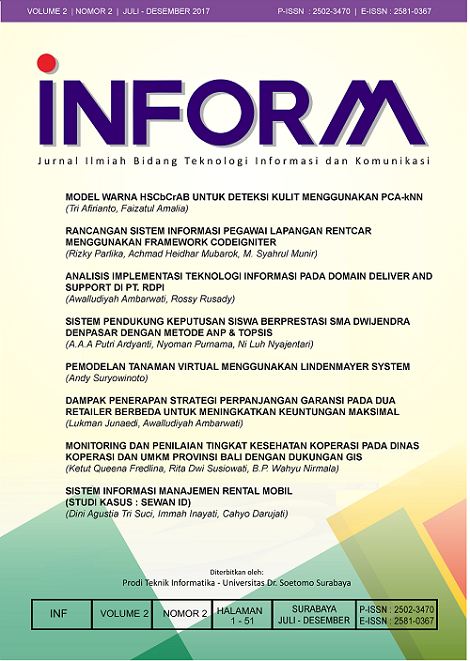 How to Cite
(2017). Pemodelan Tanaman Virtual Menggunakan Lindenmayer System. Inform : Jurnal Ilmiah Bidang Teknologi Informasi Dan Komunikasi, 2(2). https://doi.org/10.25139/inform.v2i2.311
Copyright (c) 2017 Andy Suryowinoto
This work is licensed under a Creative Commons Attribution-ShareAlike 4.0 International License.
Authors who publish with Inform: Jurnal Ilmiah Bidang Teknologi Informasi dan Komunikasi agree to the following terms:
Authors retain copyright and grant the journal right of first publication with the work simultaneously licensed under a Creative Commons Attribution License (CC BY-SA 4.0) that allows others to share the work with an acknowledgment of the work's authorship and initial publication in this journal.

Authors are able to enter into separate, additional contractual arrangements for the non-exclusive distribution of the journal's published version of the work (e.g., post it to an institutional repository or publish it in a book), with an acknowledgment of its initial publication in this journal.

Authors are permitted and encouraged to post their work online (e.g., in institutional repositories or on their website) prior to and during the submission process, as it can lead to productive exchanges, as well as earlier and greater citation of published work.