Model Warna HSCbCrAB untuk Deteksi Kulit Menggunakan PCA-kNN
Universitas Brawijaya

Universitas Brawijaya
Abstract views:
618
,
PDF (Bahasa Indonesia) downloads:
574
Abstract
Deteksi kulit merupakan suatu proses untuk menentukan suatu wilayah apakah termasuk kulit atau bukan kulit. Beberapa kamera digital menghasilkan citra RGB. Dalam berbagai kasus deteksi kulit dilakukan transformasi dari RGB ke ruang warna lainnya, seperti HSV, YCbCr, dan CIELAB. Beberapa ruang warna memiliki dua komponen yang terpisah, yaitu komponen luminan dan krominan, sedangkan warna kulit manusia lebih sering berada pada komponen krominan. Dalam paper ini, kami melakukan penelitian deteksi kulit menggunakan komponen krominan dari ruang warna HSV, YCbCr, dan CIELAB, dengan nama HSCbCrAB. Kami menggunakan PCA untuk mengurangi dimensi dank NN sebagai klasifier. Hasil dari penelitian menunjukkan performa yang bagus pada ruang warna HSCbCrAB untuk deteksi kulit
References
[1] P. Kakumanu, S. Makrogiannis, N. Bourbakis, "A survey of skin-color modeling and detection methods", Pattern Recognition. (2007), 40(3): 1106-1122.
[2] A. Hamdy, M. Elmahdy, M. Elsabrouty, "Face detection using PCA and skin-tone extraction for drowsy driver application", Proceedings of ITI 5th International Conference on Information and Communications Technology. Cairo. (2007) 35-137.
[3] Y. Ban, S. K. Kim, S. Kim, K. A. Toh, S. Lee, "Face detection based on skin color likelihood", Pattern Recognition. (2014), 47(4): 1573-1585.
[4] J. S. Lee, Y. M. Kuo, P. C. Chung, E. L. Chen, "Naked image detection based on adaptive and extensible skin color model", Pattern Recognition. (2007), 40(8): 2261-2270.
[5] F. Nian, T. Li, Y. Wang, M. Xu, J. Wu, "Pornographic image detection utilizing deep convolutional neural networks", Neurocomputing. (2016), 210: 283-293.
[6] D. González-Ortega, F. J. Díaz-Pernas, M. Martínez-Zarzuela, M. Antón-Rodríguez, J. F. Díez-Higuera, D. Boto-Giralda, "Real-time hands, face and facial features detection and tracking: application to cognitive rehabilitation tests monitoring", Journal of Network and Computer Applications. (2010), 30(4): 447-466.
[7] S. Omanovic, E. Buza, I. Besic, "RGB ratios based skin detection", Proceedings of the 37th Information and Communication Technology, Electronics and Microelectronics (MIPRO). Opatija. (2014) 1348-1353.
[8] A. A. Zaidan, N. N. Ahmad, H. A. Karim, M. Larbani, B. B. Zaidan, A. Sali, "Image skin segmentation based on multi-agent learning bayesian and neural network", Engineering Applications of Artificial Intelligence. (2014), 32: 136-150.
[9] F. Z. Chelali, N. Cherabit, A. Djeradi, "Face recognition system using skin detection in RGB and YCbCr color space", Proceedings of the 2nd World Symposium on Web Applications and Networking (WSWAN). Sousse. (2015) 1-7.
[10] B. Dhivakar, C. Sridevi, S. Selvakumar, P. Guhan, "Face detection and recognition using skin color", Proceedings of the 3rd International Conference on Signal Processing, Communication and Networking (ICSCN). Chennai. (2015) 1-7.
[11] R. Khan, A. Hanbury, J. Stöttinger, A. Bais, "Color based skin classification", Pattern Recognition Letters. (2012), 33(2): 157-163.
[12] K. Liao, G. Liu, L. Xiao, C. Liu, "A sample-based hierarchical adaptive k-Means clustering method for large-scale video retrieval", Knowledge-Based Systems. (2013), 49: 123-133.
[13] P. Arora, Dr. Deepali, S. Varshney, "Analysis of k-Means and k-Medoids algorithm for big data", Procedia Computer Science. (2016), 78: 507-512.
[14] W. R. Tan, C. S. Chan, Y. Pratheepan, J. Condell, "A fusion approach for efficient human skin detection", Proceedings of IEEE Transactions on Industrial Informatics. (2012), 8(1): 138-147.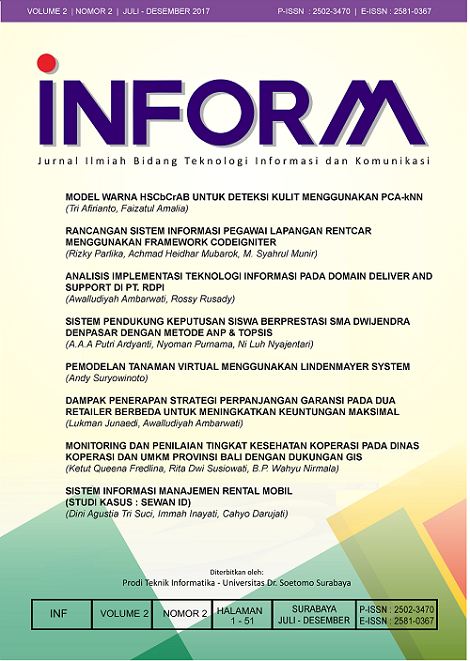 How to Cite
, & . (2017). Model Warna HSCbCrAB untuk Deteksi Kulit Menggunakan PCA-kNN. Inform : Jurnal Ilmiah Bidang Teknologi Informasi Dan Komunikasi, 2(2). https://doi.org/10.25139/inform.v2i2.312
Copyright (c) 2017 Tri Afirianto, Faizatul Amalia
This work is licensed under a Creative Commons Attribution-ShareAlike 4.0 International License.
Authors who publish with Inform: Jurnal Ilmiah Bidang Teknologi Informasi dan Komunikasi agree to the following terms:
Authors retain copyright and grant the journal right of first publication with the work simultaneously licensed under a Creative Commons Attribution License (CC BY-SA 4.0) that allows others to share the work with an acknowledgment of the work's authorship and initial publication in this journal.

Authors are able to enter into separate, additional contractual arrangements for the non-exclusive distribution of the journal's published version of the work (e.g., post it to an institutional repository or publish it in a book), with an acknowledgment of its initial publication in this journal.

Authors are permitted and encouraged to post their work online (e.g., in institutional repositories or on their website) prior to and during the submission process, as it can lead to productive exchanges, as well as earlier and greater citation of published work.