Dampak Penerapan Strategi Perpanjangan Garansi pada Dua Retailer Berbeda untuk Meningkatkan Keuntungan Maksimal
Universitas Narotama

Universitas Narotama
Abstract views:
446
,
PDF (Bahasa Indonesia) downloads:
362
Abstract
Dalam bersaing saat ini, perusahaan yang memproduksi durable product seperti produk elektronik, produk mesin atau alat berat umumnya dijual dengan pemberian garansi sebagai salah satu bentuk layanan purna jual. Garansi merupakan suatu perjanjian kontrak yang diberikan oleh produsen atau retailer terhadap pelanggan yang membeli produk tersebut berupa penggantian atau perbaikan apabila mengalami kerusakan selama masa periode garansi. Produk dengan masa garansi yang lama bisa dijadikan tolak ukur oleh konsumen bahwa produk tersebut memiliki kualitas yang baik. Pemberian garansi menimbulkan tambahan biaya bagi produsen maupun retailer, yang disebut dengan biaya garansi. Pada penelitian ini akan mengukur dampak terhadap penerapan strategi perpanjangan garansi yang diberikan oleh dua retailer yang berbeda dengan produsen yang sama selaku pemberi garansi dasar kepada pelanggan, dengan metode pengembangan model strategi garansi Bian dan Esmaili. Strategi perpanjangan garansi yang dilakukan produsen berupa menawarkan garansi dasar kepada pelanggan dengan jenis garansi Free Replacement Warranty. Untuk kedua retailer memberikan penawaran pilihan perpanjangan garansi kepada pelanggan; yang pertama memberikan perpanjangan garansi dengan jenis garansi Free Repairment Warranty, dengan biaya garansi dibundel dengan harga produk; kedua tidak memberikan perpanjangan garansi. Hasil pengukuran menunjukkan, strategi dengan perpanjangan garansi oleh retailer memberikan profit supply chain dan profit bagi produsen yang lebih besar daripada yang tidak memberikan perpanjangan garansi.
References
[1] D. N. P. Murthy and I. Djamaludin, "New product warranty: A literature review," Int. J. Prod. Econ., vol. 79, no. 3, pp. 231–260, 2002.
[2] D. Murthy, "Product warranty logistics: Issues and challenges," Eur. J. Oper. Res., vol. 156, no. 1, pp. 110–126, Jul. 2004.
[3] Y. Bian, S. Yan, W. Zhang, and H. Xu, "Warranty strategy in a supply chain when two retailer's extended warranties bundled with the products," J. Syst. Sci. Syst. Eng., vol. 24, no. 3, pp. 364–389, Sep. 2015.
[4] M. Esmaeili, N. Shamsi Gamchi, and E. Asgharizadeh, "Three-level warranty service contract among manufacturer, agent and customer: A game-theoretical approach," Eur. J. Oper. Res., vol. 239, no. 1, pp. 177–186, Nov. 2014.
[5] K. Li, S. Mallik, and D. Chhajed, "Design of Extended Warranties in Supply Chains under Additive Demand," Prod. Oper. Manag., vol. 21, no. 4, pp. 730–746, Jul. 2012.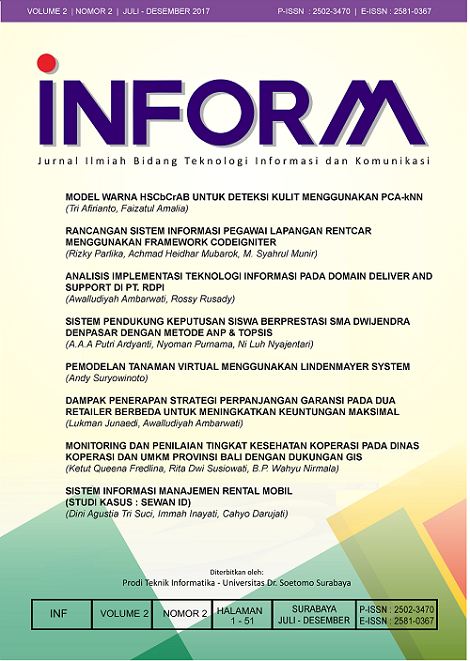 How to Cite
, & . (2017). Dampak Penerapan Strategi Perpanjangan Garansi pada Dua Retailer Berbeda untuk Meningkatkan Keuntungan Maksimal. Inform : Jurnal Ilmiah Bidang Teknologi Informasi Dan Komunikasi, 2(2). https://doi.org/10.25139/inform.v2i2.316
Copyright (c) 2017 Lukman Junaedi, Awalludiyah Ambarwati
This work is licensed under a Creative Commons Attribution-ShareAlike 4.0 International License.
Authors who publish with Inform: Jurnal Ilmiah Bidang Teknologi Informasi dan Komunikasi agree to the following terms:
Authors retain copyright and grant the journal right of first publication with the work simultaneously licensed under a Creative Commons Attribution License (CC BY-SA 4.0) that allows others to share the work with an acknowledgment of the work's authorship and initial publication in this journal.

Authors are able to enter into separate, additional contractual arrangements for the non-exclusive distribution of the journal's published version of the work (e.g., post it to an institutional repository or publish it in a book), with an acknowledgment of its initial publication in this journal.

Authors are permitted and encouraged to post their work online (e.g., in institutional repositories or on their website) prior to and during the submission process, as it can lead to productive exchanges, as well as earlier and greater citation of published work.