Analysis and Design of Frozen Food Production and Sales Information Systems Using the ICONIX Process
Seftin Fitri Ana Wati

Information Systems, UPN "Veteran" Jawa Timur, Surabaya

Athallah Bariq Hidayat

Information Systems, UPN "Veteran" Jawa Timur, Surabaya

Khalid Rijaluddin

Information Systems, UPN "Veteran" Jawa Timur, Surabaya

Intania Rachman Martapura

Information Systems, UPN "Veteran" Jawa Timur, Surabaya
Abstract views:
194
,
PDF downloads:
198
Keywords:
Analysis and Design, MSME, Information Systems, ICONIX Process, Frozen Food
Abstract
Micro, Small, and Medium Enterprises (MSMEs) encourage the country's economy to develop rapidly. Pempek Kabeja MSMEs is one of the Frozen food businesses located in Cirebon, which is growing and has many enthusiasts because of its instant, easy, and practical nature. However, some problems exist in Kabeja MSMEs, namely the process of recording and bookkeeping in the sales and production process, which is still manual, where the recording still uses paper. This research requires business owners to improve services for the convenience of consumers and to increase competitiveness between competitors. Improvements include implementing an information system for Pempek Kabeja MSMEs, which can simplify the process of recording and accounting for production and sales because, with an information system, the process will be better. The development of this MSME information system uses the System Development Life Cycle method. SDLC has a framework, one of which is Use Case Driven Object Modelling with UML, commonly called the ICONIX process. The ICONIX Process is a lean, efficient method for using case-driven UML modeling that fully covers object-oriented analysis and design using a core set of UML diagrams and methodologies. Robustness analysis, a technique for bridging the gap between analysis and design, is its major activity. The ICONIX process has six stages: requirements, analysis / preliminary design, preliminary design review, detail design, critical design review, and implementation. However, this study did not conduct the critical design review stage. The result of this research has integrated information systems so that it can help the production and sales process of Pempek Kabeja MSMEs more effectively and efficiently.
References
D. P. R. dan P. Indonesia, "Undang-Undang Republik Indonesia Nomor 20 Tahun 2008," no. 1, 2008.
L. Latifah, D. Setiawan, Y. A. Aryani, and R. Rahmawati, "Business strategy – MSMEs' performance relationship: innovation and accounting information system as mediators," J. Small Bus. Enterp. Dev., vol. 28, no. 1, pp. 1–21, 2021.
R. A. Arrohman, H. M. Az-Zahra, and S. H. Wijoyo, "PENGEMBANGAN SISTEM INFORMASI PENGELOLAAN PRODUKSI DAN PENJUALAN UMKM BERBASIS WEB ( STUDI KASUS RABBANI FOOD ) SKRIPSI memperoleh gelar Sarjana Komputer Disusun oleh :," vol. 3, no. 4, pp. 3647–3654, 2018.
J. O. Wisono, D. Pramono, and M. C. Saputra, "Analisis dan Perancangan Sistem Informasi Pemesanan Customized Jersey pada Injers Malang Berbasis Web," J. Pengemb. Teknol. Inf. dan Ilmu Komput., vol. 3, no. 4, pp. 3677–3686, 2019.
A. Alshamrani and A. Bahattab, "A Comparison Between Three SDLC Models Waterfall Model, Spiral Model, and Incremental/Iterative Model," IJCSI Int. J. Comput. Sci. Issues, vol. 12, no. 1, pp. 106–111, 2015.
O. E. Olorunshola and F. N. Ogwueleka, "Review of system development life cycle (SDLC) models for effective application delivery," in Information and Communication Technology for Competitive Strategies (ICTCS 2020), Springer, 2022, pp. 281–289.
A. V. Vitianingsih and Yudi Kristyawan., "Web Map Untuk Mengetahui Potensi Lahan Pertanian dan Perikanan di Kabupaten Sidoarjo," in Seminar Nasional Teknologi Informasi & Komputasi 2014 (SENASTIK 2014), 2014, vol. 2014, no. September, pp. 10–11.
T. Kamilia, E. M. P. S, S. M. Putri, S. Fitri, and A. Wati, "Designing Information System Inventory and Transaction Reports Web-Based Using ICONIX Process Method," vol. 8, no. 1, pp. 14–26, 2023.
M. Farizd, B. P. Pradana, D. Shahita, and S. F. Ana Wati, "Analysis and Design of Employee Attendance Application System Using RFID E-KTP Technology with ICONIX Process Method," Inf. J. Ilm. Bid. Teknol. Inf. dan Komun., vol. 7, no. 2, pp. 132–142, 2022.
Anindo Saka Fitri, Eka Nanda Sulastri, M. Hilmi Thabibi, Debrina Octrisya Hajjar, Queen Anjar Dea Nigata, and Akbar Izdihar, "Digital Library Analysis and Design Using Iconix Process Method (Case Study: SMA Negeri 1 Ngimbang)," Inf. J. Ilm. Bid. Teknol. Inf. dan Komun., vol. 7, no. 2, pp. 107–112, 2022.
A. S. Fitri, E. Nurhayati, N. Anidew, A. Pratita, and S. S. Elfaretta, "Website Analysis and Design Using Iconix Process Method Case Study : Kedai Lengghian," vol. 8, no. 1, pp. 64–70, 2023.
Ms. Prof. Dr. Suryana, "Metodologi Penelitian : Metodologi Penelitian Model Prakatis Penelitian Kuantitatif dan Kualitatif," Univ. Pendidik. Indones., pp. 1–243, 2012.
E. Sudarmanto, A. Z. Kurniullah, E. Revida, R. Ferinia, M. Butarbutar, and L. A. Abdilah, "Desain Penelitian Bisnis, Pendekatan Kuantitatif," pp. 1–23, 2016.
Yazfinedi, "Usaha Mikro, Kecil, dan Menengah di Indonesia: Permasalahan dan Solusinya," J. Ilm. Kesejaht. Sos., vol. XIV, no. 25, pp. 33–41, 2018.
I. Maryani, "Modul Universitas Nusa Mandiri Fakultas Teknologi Informasi Program Studi Sistem Informasi," 2022.
A. H. M. Ter Hofstede, W. M. P. Van Der Aalst, M. Adams, and N. Russell, "The Business Process Modeling Notation," Mod. Bus. Process Autom. YAWL its Support Environ., pp. 1–676, 2010.
R. Nurcahyo and D. I. Sensuse, "KNOWLEDGE MANAGEMENT SYSTEM DENGAN SECI MODEL SEBAGAI MEDIA KNOWLEDGE SHARING PADA PROSES PENGEMBANGAN PERANGKAT LUNAK," vol. 5, no. 2, pp. 63–76, 2019.
B. K. T and Syarifuddin, "PERANCANGAN SISTEM APLIKASI PEMESANAN MAKANAN DAN MINUMAN PADA CAFETARIA NO CAFFE DI TANJUNG BALAI KARIMUN MENGGUNAKAN BAHASA PEMOGRAMAN PHP DAN MYSQL," vol. 1, no. 2, pp. 192–206, 2020.
E. R. Subhiyakto et al., "APLIKASI PEMBELAJARAN CLASS DIAGRAM BERBASIS WEB," vol. 11, no. 1, pp. 143–150, 2020.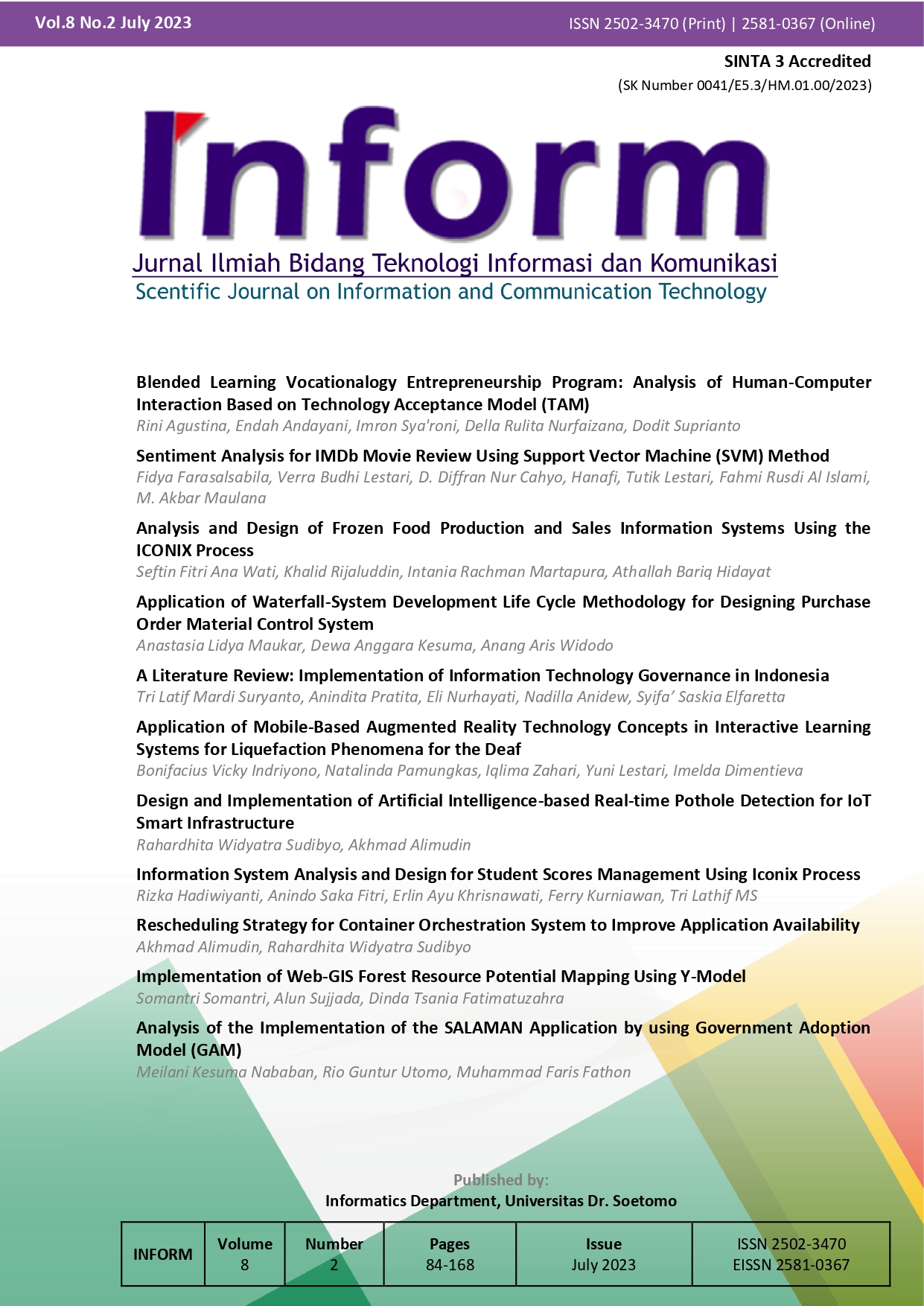 How to Cite
Ana Wati, S. F., Hidayat, A. B., Rijaluddin, K., & Martapura, I. R. (2023). Analysis and Design of Frozen Food Production and Sales Information Systems Using the ICONIX Process . Inform : Jurnal Ilmiah Bidang Teknologi Informasi Dan Komunikasi, 8(2), 96-101. https://doi.org/10.25139/inform.v8i2.4744
Copyright (c) 2023 Seftin Fitri Ana Wati, Athallah Bariq Hidayat, Khalid Rijaluddin, Intania Rachman Martapura
This work is licensed under a Creative Commons Attribution-ShareAlike 4.0 International License.
Authors who publish with Inform: Jurnal Ilmiah Bidang Teknologi Informasi dan Komunikasi agree to the following terms:
Authors retain copyright and grant the journal right of first publication with the work simultaneously licensed under a Creative Commons Attribution License (CC BY-SA 4.0) that allows others to share the work with an acknowledgment of the work's authorship and initial publication in this journal.

Authors are able to enter into separate, additional contractual arrangements for the non-exclusive distribution of the journal's published version of the work (e.g., post it to an institutional repository or publish it in a book), with an acknowledgment of its initial publication in this journal.

Authors are permitted and encouraged to post their work online (e.g., in institutional repositories or on their website) prior to and during the submission process, as it can lead to productive exchanges, as well as earlier and greater citation of published work.