Website Analysis and Design Using Iconix Process Method: Case Study: Kedai Lengghian
Anindo Saka Fitri

Information System Department, University of Pembangunan Nasional Veteran Jawa Timur

Eli Nurhayati

Information System Department, University of Pembangunan Nasional Veteran Jawa Timur

Nadilla Anidew

Information System Department, University of Pembangunan Nasional Veteran Jawa Timur

Anindita Pratita

Information System Department, University of Pembangunan Nasional Veteran Jawa Timur

Syifa' Saskia Elfaretta

Information System Department, University of Pembangunan Nasional Veteran Jawa Timur
Abstract views:
157
,
PDF downloads:
158
Keywords:
Website Development, Analysis and Design, Iconix Process, Functional Requirement
Abstract
Kedai Lengghian is one of the culinary businesses that has not applied technology to support its business processes. In the era of globalization, information technology is developing rapidly, allowing for business development. The development of information technology has an impact on the tight competition in the culinary business. Researchers provide solutions so that the managers and employees of Kedai Lengghian can increase the effectiveness and efficiency of business processes there. This is done by analyzing and designing a website-based information system that can later help implement system creation. Before creating an information system that suits the needs of its users, it is necessary to analyze and design software. Researchers use the Iconix Process method because the concept of building a system that is run focuses on the needs of its users. The Iconix Process has four stages: requirement, analysis, preliminary design, detailed design, and implementation. Kedai Lenghian can use information system technology to become a reference at the level of system implementation. In addition, this website-based information system is expected to increase the effectiveness and efficiency of the store's business processes and become an attraction for Kedai Lengghian consumers. The result of Website Analysis and Design Using the Iconix process is an object-oriented design that can then be coded. Also, its produced UML design gives Kedai Lengghian a picture of website making based on user needs, system needs, and system design.
References
C. A. Cholik, "PERKEMBANGAN TEKNOLOGI INFORMASI KOMUNIKASI / ICT DALAM BERBAGAI BIDANG," J. Fak. Tek., vol. 2, no. 2, pp. 39–46, 2021.
Y. M. Pratama, Pengaruh Layanan Food Delivery Terhadap Peningkatan Penjualan Pengusaha Kuliner (Studi Pada Pengusaha Kuliner Yang Terdaftar di Go-Food/Go-Jek Jambi). 2018.
A. Asnawi, "Indonesia's Readiness to Build a Digital Economy in the EraIndustrial Revolution 4.0," J. Ilm. Indones., vol. 7, no. 1, 2022.
J. O. Wisono, D. Pramono, and M. C. Saputra, "Analisis dan Perancangan Sistem Informasi Pemesanan Customized Jersey pada Injers Malang Berbasis Web," J. Pengemb. Teknol. Inf. dan Ilmu Komput., vol. 3, no. 4, pp. 3677–3686, 2019.
A. V. Vitianingsih, D. Cahyono, and A. Choiron, "Analysis and design of web-geographic information system for tropical diseases-prone areas: A case study of East Java Province, Indonesia," in 2017 4th International Conference on Information Technology, Computer, and Electrical Engineering (ICITACEE), 2017, pp. 255–260.
A. Vita et al., "PENERAPAN ICONIX PROCESS DALAM PERANCANGAN KAPIUP ( Kantin Pintar UPN ' VETERAN ' JAWA TIMUR )," vol. 11, no. 1, 2023.
S. Mukaromah, A. B. Putra, and N. C. Wibowo, "Analisis dan Perancangan Sistem Informasi Logbook dengan Iconix Process," Rekayasa Teknol. Ind. dan Inf. 2017, pp. 130–135, 2017.
A. L. Zahra, S. Tiara, R. Ada, R. Aisyah, S. Fitri, and A. Wati, "Perancangan Sistem Informasi E-learning Berbasis Web di MI Narrative Quran," vol. 4, pp. 33–43, 2022.
A. Pratama, S. Mukaromah, S. A. Ithriah, and E. M. Safitri, "Entrepreneurship Information System Design with ICONIX Process for a Student Business Unit Marketplace," J. Phys. Conf. Ser., vol. 1569, no. 2, 2020.
D. I. G. Hutasuhut, A. Ambiyar, U. Verawardina, O. Alfina, E. Ginting, and ..., "E-Learning Pembelajaran Ilustrasi Menggunakan Metode Iconix Process," J-SHAKTI (Jurnal Sains Komput. dan Inform., vol. 5, no. 1, pp. 29–38, 2021.
M. S. Doug Rosenberg, Use Case Driven Object Modeling with UMLUse Case Driven Object Modeling with UML. Apress, 2007.
N. Fitrianingsih, I. Fitriati, and S. Taman Siswa Bima, "Pengembangan Aplikasi E-Raport Berbasis Graphical User Interface (GUI) dengan Menggunakan VB.Net 2010 di SMKN 10 Bima," J. Pendidik. MIPA, vol. 9, no. 1, pp. 67–75, 2019.
P. B. A. A. Putra, V. H. Pranatawijaya, and N. N. K. Sari, "Implementasi Location Based Service Pada Aplikasi Mobile Penyajian Ruang Ujian," J. Sains dan Inform., vol. 6, no. 1, pp. 26–30, 2020.
T. Ganefo, M. Qomaruddin, and M. Taufik, "RANCANG BANGUN SISTEM INFORMASI DENGAN METODE ICONIX PROCESS ( STUDI KASUS : PENDAFTARAN CALON PESERTA LATIHAN KADER II HIMPUNAN MAHASISWA ISLAM CABANG SEMARANG )," pp. 516–525, 2019.
M. R. Romadhoni, A. Putri, A. A. Pranata, S. Fitri, and A. Wati, "ANALISIS LAPANGAN FUTSAL BERBASIS WEB DENGAN METODE ICONIX PROCESS," vol. 11, no. 1, pp. 77–85, 2023.
W. Widyatmoko and N. Pamungkas, "Pemodelan Unified Modeling Language pada Sistem Aplikasi Pariwisata (SiAP)," J. Bumigora Inf. Technol., vol. 4, no. 1, pp. 73–84, 2022.
S. Z. Siregar, Siti Wahdina, Harahap, "Keywords : Alumni Data , Information Systems , Web .," no. November, pp. 217–226, 2021.
Q. Ma, "System requirements analysis with ICONIX process case study: group project peer-assessment tool Teaching case for System Analysis View project Technology Acceptance Model View project," vol. 21, pp. 1–11, 2019.
Yulianta and P. Mursanto, "Pengembangan Aplikasi Web dengan ICONIX Process dan UML Studi Kasus: Sistem Manajemen ISI," J. Sist. Inf. MTI-UI, vol. 4, no. 2, pp. 115–121, 2008.
S. Wahyudi, "Pengembangan Sistem Informasi Klinik Berbasis Web ( Studi Kasus : Klinik Surya Medika Pasir Pengaraian )," Riau J. ofComputer Sci., vol. 06, no. 01, pp. 50–57, 2020.
A. Sofiandri et al., "Perancangan dan implementasi aplikasi ikhtisar kas masjid istiqomah berbasis desktop," vol. 12, no. 2, pp. 51–56, 2018.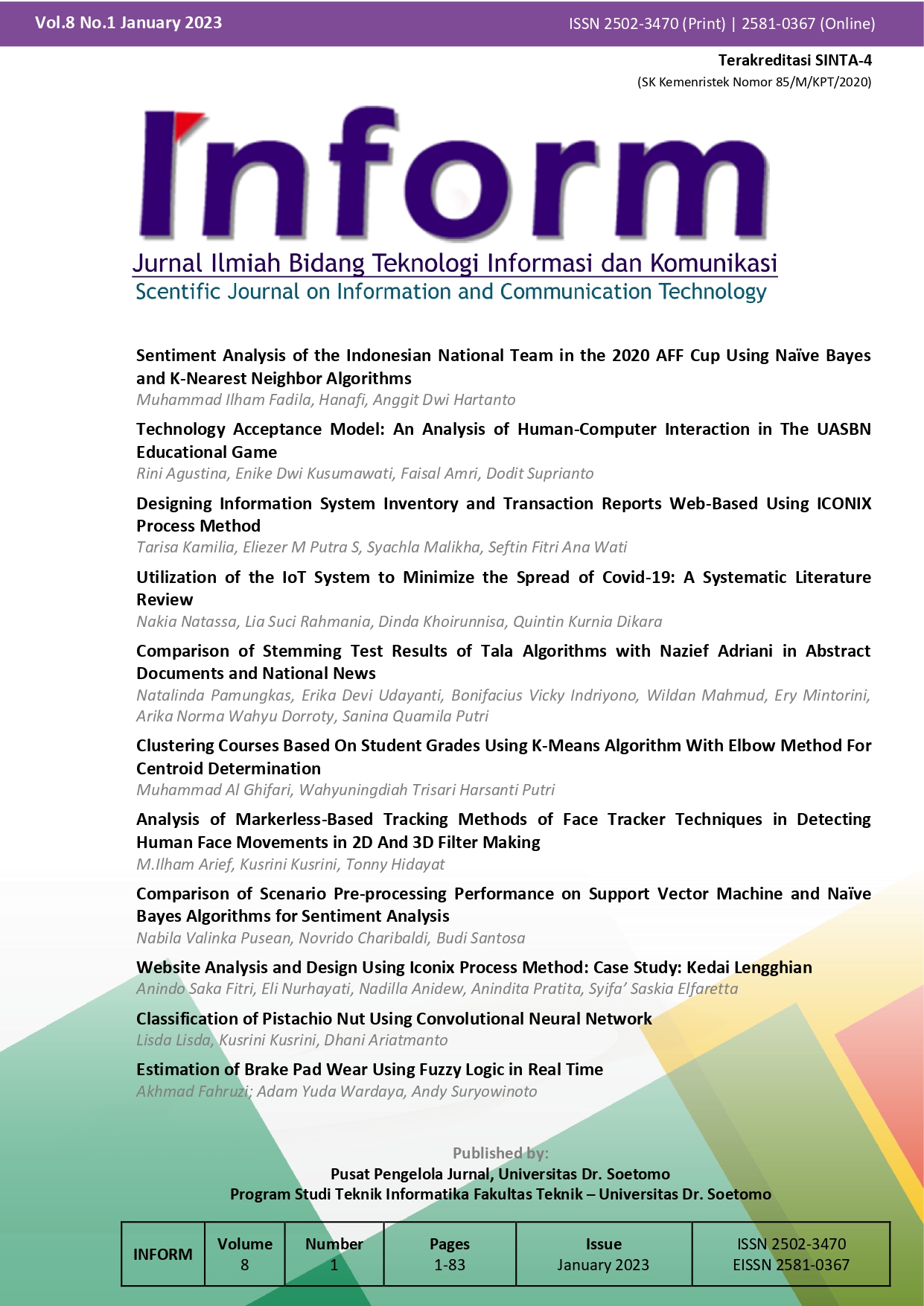 How to Cite
Saka Fitri, A., Nurhayati, E., Anidew, N., Pratita, A., & Saskia Elfaretta, S. (2023). Website Analysis and Design Using Iconix Process Method: Case Study: Kedai Lengghian. Inform : Jurnal Ilmiah Bidang Teknologi Informasi Dan Komunikasi, 8(1), 64-70. https://doi.org/10.25139/inform.v8i1.4758
Copyright (c) 2023 Anindo Saka Fitri, Eli Nurhayati, Nadilla Anidew, Anindita Pratita, Syifa' Saskia Elfaretta
This work is licensed under a Creative Commons Attribution-ShareAlike 4.0 International License.
Authors who publish with Inform: Jurnal Ilmiah Bidang Teknologi Informasi dan Komunikasi agree to the following terms:
Authors retain copyright and grant the journal right of first publication with the work simultaneously licensed under a Creative Commons Attribution License (CC BY-SA 4.0) that allows others to share the work with an acknowledgment of the work's authorship and initial publication in this journal.

Authors are able to enter into separate, additional contractual arrangements for the non-exclusive distribution of the journal's published version of the work (e.g., post it to an institutional repository or publish it in a book), with an acknowledgment of its initial publication in this journal.

Authors are permitted and encouraged to post their work online (e.g., in institutional repositories or on their website) prior to and during the submission process, as it can lead to productive exchanges, as well as earlier and greater citation of published work.