Heuristik dan Hermeneutik Puisi Joko Pinurbo
Riskayanti

Universitas Negeri Makassar

Juanda

Universitas Negeri Makassar

Mahmudah

Universitas Negeri Makassar
Abstract views:
306
,
pdf downloads:
776
Keywords:
heuristic, hermeneutic, puisi, semiotika Riffaterrre
Abstract
Puisi bermakna jika pembaca memberi makna pada puisi tersebut. Pemberian makna tersebut harus melalui kerangka semiotik agar dapat memaknai puisi dengan baik, penulis menggunakan semiotika Riffaterre untuk memahami dan memaknai sebuah puisi. Riffaterre mengemukakan empat hal penting dalam menganalisis sebuah puisi. Penelitian ini bertujuan untuk mengetahui pemaknaan heuristik dan hermeneutik dalam kumpulan puisi "Selamat Menunaikan Ibadah Puisi" karya Joko Pinurbo. Penelitian ini termasuk penelitian kualitatif dengan metode deskriptif. Data dalam penelitian ini adalah kata-kata dan kalimat yang terdapat pada 3 judul puisi dari buku kumpulan puisi Selamat Menunaikan Ibadah Puisi, masing-masing puisi yang dijadikan sebagai objek penelitian ini adalah Pulang Malam 21, Naik Bus di Jakarta 42, dan Di Pojok Iklan satu Halaman 63. Hasil penelitian ini membuktikan bahwa kumpulan puisi pilihan Selamat Menunaikan Ibadah Puisi karya Joko Pinurbo memiliki kandungan makna yang terindikasi dalam bentuk pemaknaan heuristik dan hermeneutik pada puisi, yaitu kehidupan suami istri yang mengaruhi bahtera kehidupan rumah tangga hingga akhir hayatnya. Temuan ini dapat digunakan sebagai bahan pembelajaran siswa sekolah dasar maupun menengah terkait dengan proses kreatif puisi dan pemaknaannya.
References
Arfan, Khusnul. 2013. Analisis Semiotika Riffaterre dalam Puisi Das Theater, Stätte Der Träume Karya Bertolt Brecht. Universitas Negeri Yogyakarta.
Almahasheer, M. B. (2019). Winds of change: Heterotopias in Nimah Nawwab's the unfurling. GEMA Online Journal of Language Studies, 19(2), 70–81. https://doi.org/10.17576/gema-2019-1902-05
Cerce, D. (2020). Dismantling of the Dominant European Discourse in the Poetry of Jeanine Leane. GEMA Online Journal of Language Studies, 20(3), 58–69. https://doi.org/10.17576/gema-2020-2003-04 58
Chang, H. (2021). "He meddled with or molested me": #MeToo protests in Nuala Ní Dhomhnaill's poetry. 3L: Language, Linguistics, Literature, 27(2), 76–88. https://doi.org/10.17576/3L-2021-2702-06
Farhah, E. (2020). Struggle for Seeking Knowledge in A Foreign Country in Ahmed Shawqi's Syuhadā'ul-`Ilmi wal-Gharbah: A Semiotic Analysis. Jurnal Poetika, 8(2), 139–156. https://doi.org/10.22146/poetika.v8i2.60169
Gadamer, H.-G. (1992). Hans-Georg Gadamer on Education, Poetry, and History: Applied Hermeneutics. In State University of New York Press. State University of New York Press. https://doi.org/10.5860/choice.30-1446
Hadi, A. (2014). Ta'wil Problematics as Eastern Hermeneutics in Literary Approach. Sadra Press.
Khaidzir, M. F. S., Hashim, R. S., & Yusof, N. M. (2021). Nor faridah's wanderings as female flâneur in the art of naming. GEMA Online Journal of Language Studies, 21(3), 140–153. https://doi.org/10.17576/GEMA-2021-2103-08
Khosravi, G. D.E., et.al (2022). Eco-Mysticism i n Pablo Neruda ' s Selected Poetry. Journal 3 L 28(September), 262–281. http://doi.org/10.17576/3L-2022-2803-17
Mhana, Z. A., Talif, R., Zainal, Z. I., & Hadi, I. A. (2019). Reading carol ann Duffy's "politics" through unnatural ecopoetics. 3L: Language, Linguistics, Literature, 25(1), 100–109. https://doi.org/10.17576/3L-2019-2501-07
Miles, M. B., Huberman, A. M., & Saldana, J. (2014). Qualitative Data Analysis a Methods Sourcebook (3rd ed.). SAGE Publications.
Morán-Reyes, A. A. (2022). Towards an ethical framework about Big Data era: metaethical, normative ethical and hermeneutical approaches. Heliyon, 8(2), 1–8. https://doi.org/10.1016/j.heliyon.2022.e08926
Riffaterre, M. (1978). Semiotics of Poetry. Bloomington: Indiana University Press.
Saludung, J., Nahriana, & Suryana, S. (2021). Pengembangan dan penerapan resep makanan tradisional empat etnis pada upacara adat dan wisata kuliner nusantara di Sulawesi Selatan. Seminar Nasional Hasil Penelitian 2021 "Penguatan Riset, Inovasi, Dan Kreativitas Peneliti Di Era Pandemi Covid-19, 1433–1450.
Sugianto, I., & Haerussaleh. (2018). Serat Sasmitarasa (Kajian Semiotik). FONEMA, 1(2), 152–165. https://doi.org/10.25139/fn.v1i2.1246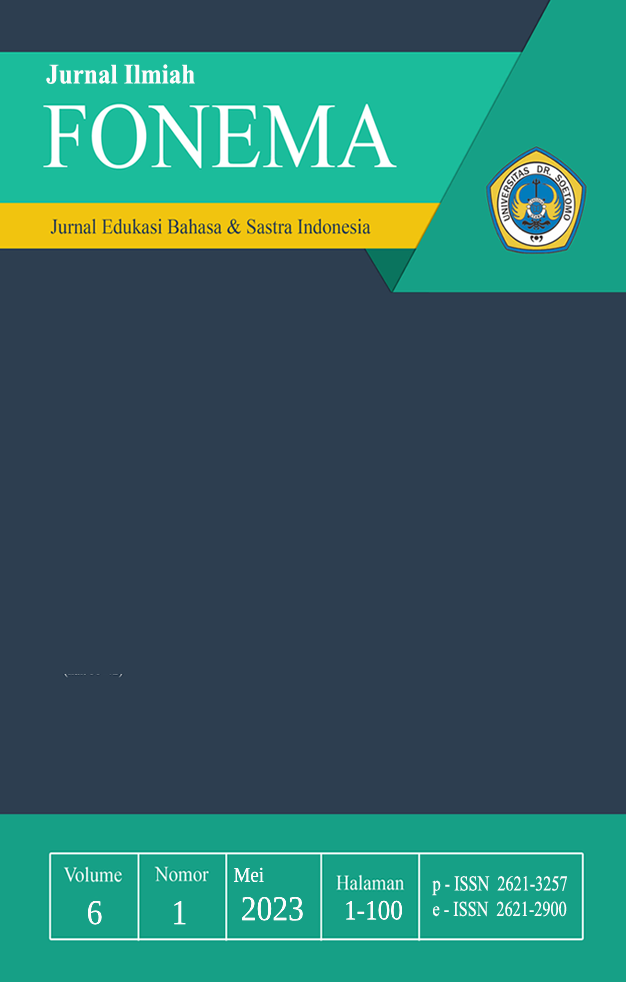 How to Cite
Riskayanti, Juanda, & Mahmudah. (2023). Heuristik dan Hermeneutik Puisi Joko Pinurbo. Jurnal Ilmiah FONEMA : Jurnal Edukasi Bahasa Dan Sastra Indonesia, 6(1), 74-87. https://doi.org/10.25139/fn.v6i1.5877
Jurnal Ilmiah Fonema
by
http://ejournal.unitomo.ac.id/index.php/pbs
is licensed under a
Creative Commons Attribution 4.0 International License
.