Vol. 11 No. 1 (2023): Proceeding of International Seminar ECKLL XI 2023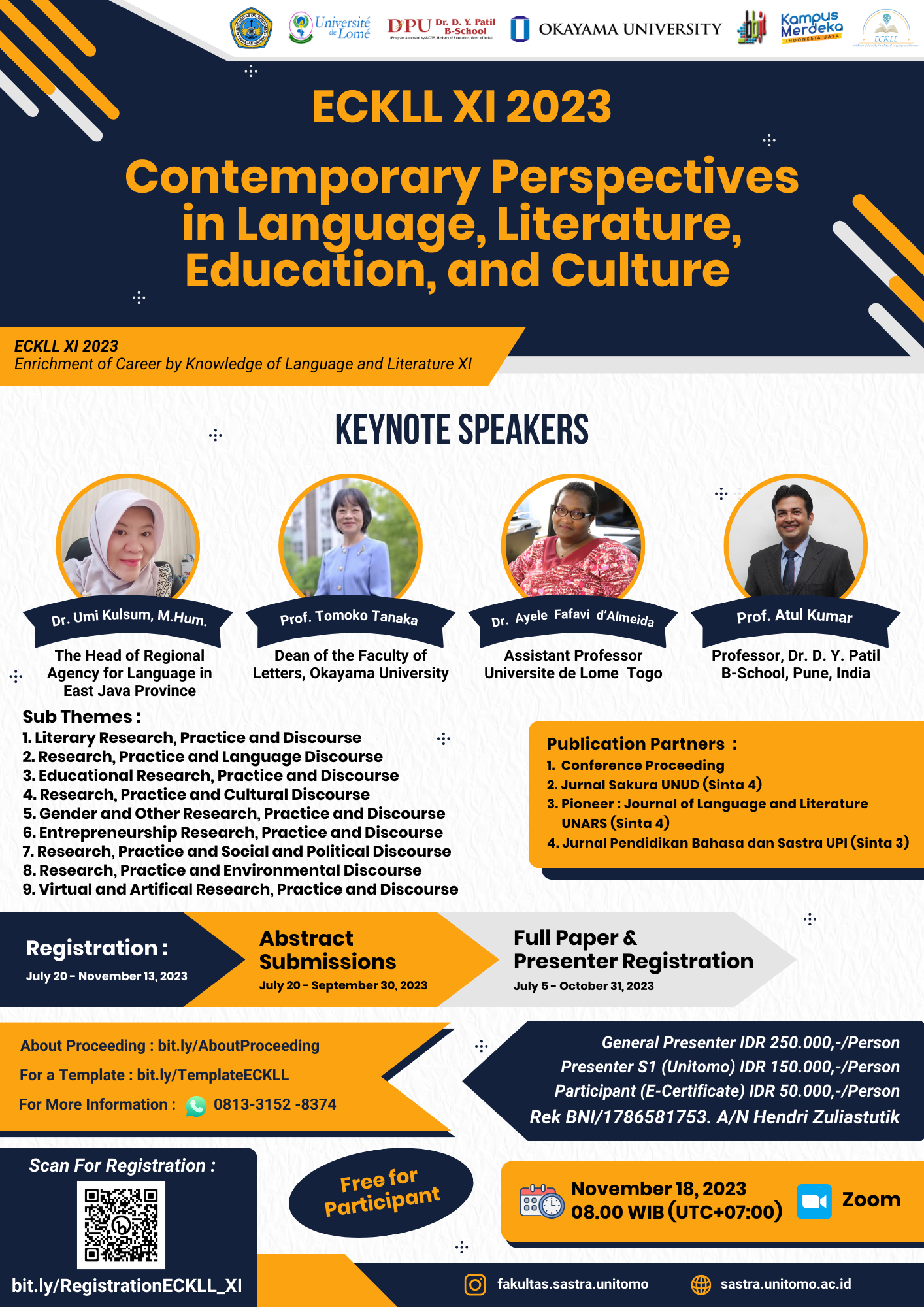 Enrichment of Career by Knowledge of Language and Literature (ECKLL) was firstly held by Faculty of Letters - Dr. Soetomo University - Surabaya - Indonesia in 2013. It is an annual international seminar on language, literature, culture, and education held to gather and empower researchers, practitioners, teachers, and students to identify and share various current issues in language, literature, culture, and education affairs. ECKLL International Seminar is known for its informal setting, which encourages participation in a stimulating and wide-ranging discussion to enrich the perspective both theoretically and practically on the latest issues of the given topics related to the provided general themes. Therefore, ECKLL provides references for researches and studies in its proceeding.
Keynote Speakers                                                                                                                                                                
Dr. Umi Kulsum, M.Hum. - The Head of Regional Agency for Language in East Java Province
Prof. Tomoko Tanaka - Dean of the Faculty of Letters, Okayama University
Dr. Ayele Fafavi d'Almeida - Assistant Professor Universite de Lome Togo
Prof. Atul Kumar - Professor, Dr. D. Y. Patil B-School, Pune, India                                                          
Steering Committee                                                                                                                                                           
Dra. Cicilia Tantri Suryawati, M.Pd.
Organizing Committee                                                                                                                                                   
Chair of Committee: Dr. Rindrah Kartiningsih, S.S., M.Si., M.Pd.                                                                                                         
Vice Chair of Committee: Dr. Suhartawan Budianto, S.S., M.Pd.                                                                                             
Secretary: Desy Irmayanti, S.S., M.Pd. - Siti Wulandari, S.S., M.Pd.                                                               
Treasurer: Cahyaningsih Pujimahanani, S.S., M.Si. - Dra. Titien Wahyu Andarwati, M.Hum.                               
Event Program Division: Isnin Ainie, S.Pd., M.Pd. - Marion Fiona Smith - Kristoforus Irwan Tomo Judi - Galuh Fadhelah Aulia Hamidah - Toto Indra Wijaya - Putri Ayu Millenia - Raka Dito Fahnani - Felisha Lauren Kavita Dewi - Nurul Mufidah - Aditya Eka Yulianzah - Ayu Nurul Hadiyatur R.                                                                                             
Publication and Documentation Division: Kusuma Wijaya, S.Pd., M.Pd. - Hariyono, S.S., M.Pd. - Niko Hasda Prayogo, S.Kom. - Shafa Salsabila - Dewi Ayu Rengganis                                                                                                                           
Secretariats: Hendri Zuliastutik, S.S., M.Hum. - Sunarsih, S.Sos. - Fatimah Azzahro - Salsabila Nova Calista
Fundraising Division: Dra. Listyaningsih, M.Pd. - Dra. Anicleta Yuliastuti, M.Hum. - Dr. Drs. Mulyanto, M.Hum. - Deborra Imanuella Barends, S.S. - Fatiyah, S.S., M.A. - Johanes Claudio P.N.                                         
Food and Beverage Division: Misni, S.H.                                                                                                                                               
Equipment Division: Suhartono, S.E. - Hariadi 
Reviewer                                                                                                                                                                                       
Rommel Utungga Pasopati, S.Hub. Int., M.Fil., Fakultas Sastra - Universitas Dr. Soetomo                                               
Dr. Dra. Ni Nyoman Sarmi, M.Hum., Fakultas Sastra - Universitas Dr. Soetomo                                                       
Kazumi Inoue, Fakultas Sastra - Universitas Dr. Soetomo                                                                                                   
Laila Nabilahtauzzahro Ibrahim, Fakultas Sastra - Universitas Dr. Soetomo