Dampak Negative Illegal Logging Terhadap Indonesia
Widyawati Boediningsih

Universitas Dr. Soetomo

Sidharta Tandiono

Universitas Narotama
Abstract views:
79
,
LEX JOURNAL downloads:
2303
Keywords:
illegal logging, forestry and sanctions
Abstract
The method used in this paper is the normative method which contains Illegal logging which is the main problem in Indonesian forestry mining. The impact of illegal logging in addition to economic losses due to the shortage of wood in Indonesia, there is also a major problem, namely the unique flora and fauna in Indonesia are threatened, therefore Indonesia provides strict rules or sanctions for those who carry out this crime. is the weakness of the government in overcoming illegal logging actions. In this case the government should be aware and provide strict safeguards in Indonesian forest areas
Key words: illegal logging, forestry and sanctions
References
Muhamad Akib, Hukum Lingkungan Perspektif Global dan Nasional
(Jakarta: Rajawali, 2014)
Munadjat Danusaputro, Hukum Lingkungan,Buku I Umum, ,Jakarta,
Binacipta,1985
Nurs-Al Umar, S. B. (2011). Penegakan hukum lingkungan di indonesia.
Wacana Hukum,
Otto Soemarwoto, Ekologi, Lingkungan Hidup dan Pembangunan,
Jakarta: Djambatan, 1997
Sukanda Husin, Penegakan Hukum lingkungan Indonesia,Jakarta: Sinar
Grafika, 2014)
17 Supriatna, op.cit., Hlm. 127.

Artikel Jurnal
Anton Tabah, "Mengurai Anatomi Illegal Logging dan Deforestasi di Indonesia", Makalah pada Seminar Nasional di Manggala Wana Bhakti, Jakarta, 16 Mei 2005, Hlm. 1
Emil Salim, Ratusan Bangsa Merusak Satu Bumi, Buku Kompas, 2007
Nunu Anugrah,"Tersangka Kasus Penebangan Ilegal di Taman Nasional Baluran Segera Disidangkan"http://ppid.menlhk.go.id/media/articles/5/KHoB_WhatsApp%20Image%202021-08-29%20at%2013.45.10%20(1).jpeg.
Utami, T. B. (2007). Kebijakan Hukum Pidana dalam Menanggulangi Tindak Pidana Illegal Logging (Doctoral dissertation, Program Pasca Sarjana Universitas Diponegoro).
Eleanora, Fransiska Novita. "Tindak Pidana Illegal Logging Menurut Undang-Undang Nomor 32 Tahun 2009 Tentang Perlindungan dan Pengelolaan Lingkungan Hidup."


Peraturan PerUndang-Undangan
UU no 18 tahun 2003 tentang pencegahan dan pemberatasan kerusakan hutan
UU no 32 tahun 2009 Tentang Perlindungan dan Pengelolaan Lingkungan
Hidup
UU 28 Tahun 1995 tentang Perlindungan Hutan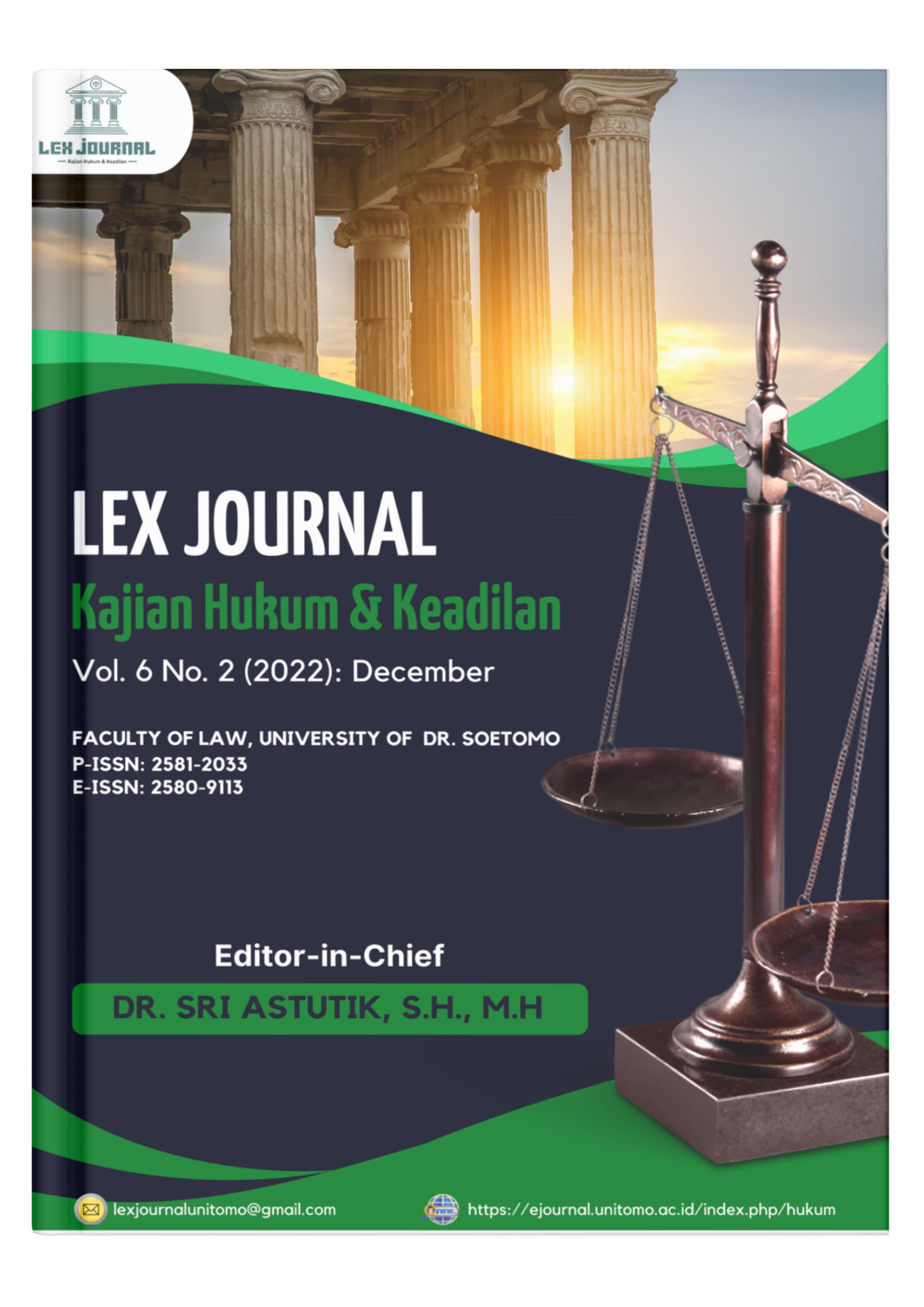 Copyright (c) 2022 Lex Journal: Kajian Hukum & Keadilan
This work is licensed under a Creative Commons Attribution-ShareAlike 4.0 International License.