Strategi Pemerintah Daerah Provinsi Jawa Timur Dalam Mewujudkan Program Jatim Bangkit (Riset Deskriptif Kualitatif pada Kampanye Jatim Bangkit)
Rizka Ufliasari

Airlangga University
Abstract views:
128
,
PDF (Bahasa Indonesia) downloads:
166
Keywords:
Promotion, Campaign, Jatim Bangkit Program
Abstract
All sectors, from micro, medium and small enterprises (MSMEs) to the tourism industry have been affected by the COVID-19 outbreak. Creating micro-scale policies that promote rapid local economic recovery is the primary responsibility of local governments. East Java to continue to be aware of potential threats from the impact of the COVID-19 pandemic, even though the province is described as having good financial system stability in the fourth quarter of October-December 2020. Khofifah Indar Parawansa understands this problem by realizing the "Jatim Bagkit" campaign This online and offline campaign aims to support the activities of MSMEs and the tourism industry during the pandemic. This study uses a qualitative methodology under a descriptive paradigm. This study attempts to describe the implementation of the entire series of "East Java Rise" campaign programs. Based on these findings, many agencies, including the East Java Office of Cooperatives and SMEs, East Java Public Relations, and the East Java Culture and Tourism Office, as well as the East Java Governor's personal Instagram account, are using Instagram content to promote the "Jatim Bangkit" Campaign. This internet effort has also been successful at generating conversation and receiving supportive feedback from the general public. In addition, the "Jatim Bangkit" Campaign was socialized as part of the Rise Tourism program which was carried out offline through the Gowesata event. This campaign is in the form of a bicycle race event from Malang to Bali with the aim of promoting tourism in the destination area.
References
Beritalima.com. (2021). Dukung Gubernur Gelorakan Jatim Bangkit, Perempuan Tani Perkuat UMKM Pertanian Hingga Panen Raya. Beritalima.Com. https://beritalima.com/dukung-gubernur-gelorakan-jatim-bangkit-perempuan-tani-perkuat-umkm-pertanian-hingga-panen-raya/
Dewi, E. (2020). Gender, Kepemimpinan Dan Kemanusiaan: Sebuah Refleksi Situasi Pandemi Covid-19. Jurnal Ilmiah Hubungan Internasional, 2(1), 85–88.
Effendy, O. U. (1994). Dinamika Komunikasi. PT Remaja Rosdakarya.
Fatkhuri, M. W. (2009). Efektifitas Perda Minuman Keras Terhadap Tindak Kriminal di Kabupaten Kulonprogo. Universitas Islam Negeri Sunan Kalijaga Yogyakarta.
Hadi, A. P., Zainudin, A., & Setiawan, N. D. (2021). Pemanfaatan Metode AIDA Dalam Desain Website Sebagai Media Promosi Produk Pada UMKM. JUPITER (Jurnal Penelitian …, 13(2), 1–6. https://doi.org/https://doi.org/10.5281/3657.jupiter.2021.10
Hariyono. (2018). Pengaruh Gaya Kepemimpinan Perempuan Terhadap Iklim Komunikasi Dan Kinerja Pegawai Pada Dinas Sosial. Jurnal Simbolika, 4(2), 73–85.
Kanalsatu.com. (2021). Ketua Dekranasda Jatim : Di Masa Pandemi, UMKM Jadi Tulang Punggung Perekonomian Jatim. Kanalsatu.Com. http://kanalsatu.com/id/post/56164/ketua-dekranasda-jatim---di-masa-pandemi--umkm-jadi-tulang-punggung-perekonomian-jatim
Kominfo.jatimprov.go.id. (2021a). Gelar Dialog Jatim Bangkit, Diskominfo Jatim Bahas Pemulihan Kondisi Pariwisata dan Ekonomi Kreatif di Bondowoso- Dinas Komunikasi dan Informatika Provinsi Jawa Timur. Kominfo.Jatimprov.Go.Id. https://kominfo.jatimprov.go.id/read/umum/gelar-dialog-jatim-bangkit-diskominfo-jatim-bahas-pemulihan-kondisi-pariwisata-dan-ekonomi-kreatif-di-bondowoso
Kominfo.jatimprov.go.id. (2021b). Gelar Talkshow Jatim Bangkit, Diskominfo Bahas Sinergi OPOP dan UMKM Jatim- Dinas Komunikasi dan Informatika Provinsi Jawa Timur. Kominfo.Jatimprov.Go.Id. https://kominfo.jatimprov.go.id/read/umum/gelar-talkshow-jatim-bangkit-diskominfo-bahas-sinergi-opop-dan-umkm-jatim
Kotler, P., & Keller, K. L. (2009). Manajemen pemasaran (A. Maulana & W. Hardani (eds.)). Erlangga. https://opac.perpusnas.go.id/DetailOpac.aspx?id=109678
Liliweri, A. (2011). Komunikasi Serba Ada Serba Makna - Prof. Dr. Alo Liliweri, M.S - Google Buku. Prenada Media Group. https://books.google.co.id/books?id=MBZNDwAAQBAJ&printsec=frontcover#v=onepage&q&f=false
Öztamur, D., & Sarper, İ. (2014). Exploring The Role of Social Media for SMEs : As A New Marketing Strategy Tool for The Firm Performance Perspective. Procedia, 150, 511–520. https://doi.org/10.1016/j.sbspro.2014.09.067
Ruslan, R. (2008). Manajement Public Relations Dan Media Komunikasi Konsepsi Dan Aplika Edisi Revisi (Revisi). Raja Grafindo Persada.
Srihasnita, R., Agus, I., & Hirma, D. (2018). Analisis Pengaruh Gaya Kepemimpinan Perempuan dan Etos Kerja Terhadap Disiplin Kerja Dosen dan Karyawan Universitas XX di Kota Padang. Menara Ekonomi, IV(1), 111–124.
Sugiyono. (2014). Metode Penelitian Kuantitatif, Kualitatif, dan R&D. Alfabeta.
Thompson, M. (2020). Why the Gendered Political Economy of COVID-19 Matters. Brave New Europe. https://braveneweurope.com/merisa-thompson-why-the-gendered-political-economy-of-covid-19-matters
Venus, A. (2004). Manajemen Kampanye: Panduan Teoritis dan Praktis dalam Mengefektifkan Kampanye Komunikasi. Simbiosa Rekatama Media.
West, R., & Turner, L. H. (2007). Introducing Communication Theory : Analysis and Application. McGraw Hill. https://opac.perpusnas.go.id/DetailOpac.aspx?id=285203
Undang-undang Nomor 20 Tahun 2008 tentang Usaha Mikro, Kecil, dan Menengah.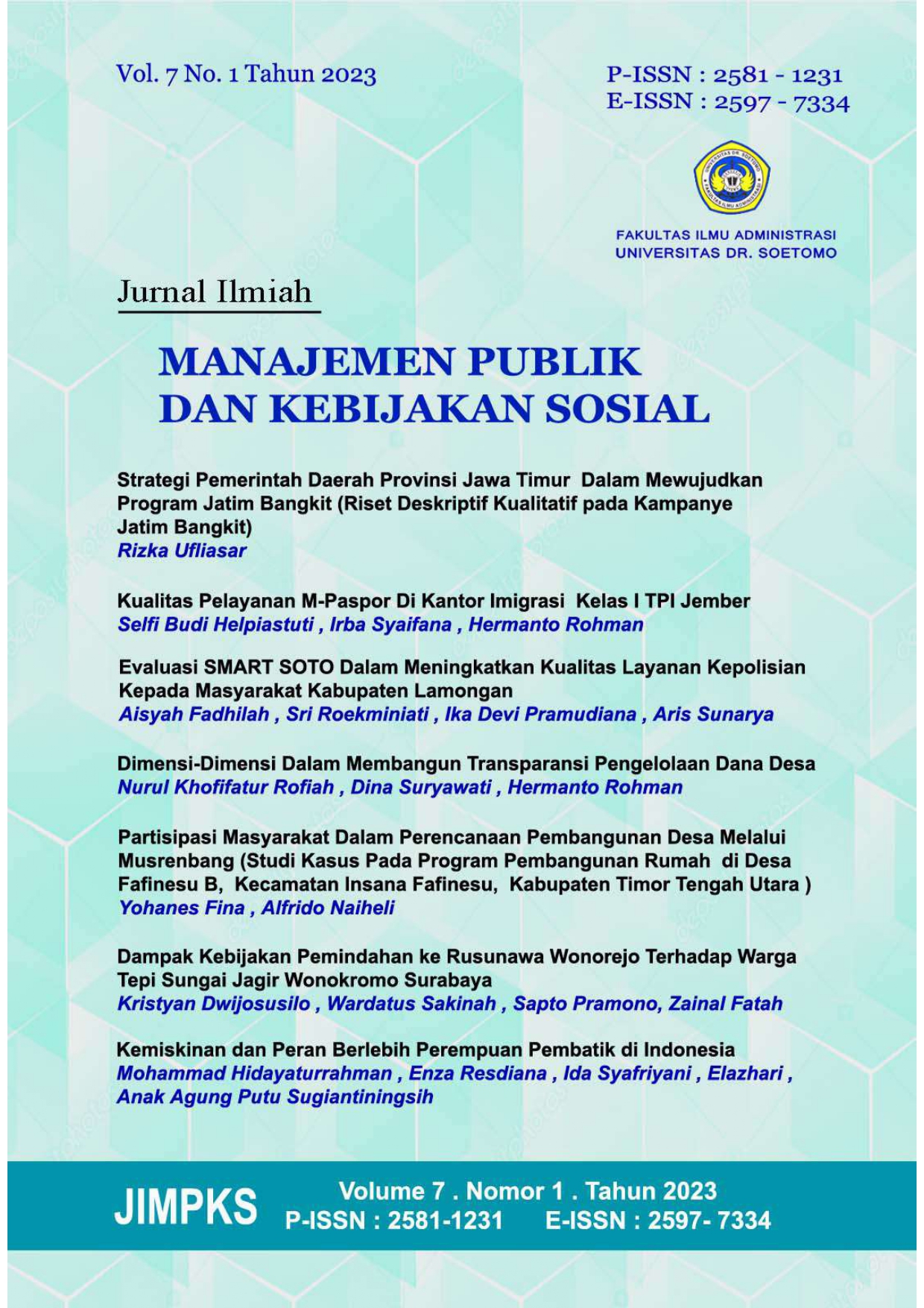 How to Cite
Ufliasari, R. (2023). Strategi Pemerintah Daerah Provinsi Jawa Timur Dalam Mewujudkan Program Jatim Bangkit (Riset Deskriptif Kualitatif pada Kampanye Jatim Bangkit). Jurnal Ilmiah Manajemen Publik Dan Kebijakan Sosial, 7(1), 1-14. https://doi.org/10.25139/jmnegara.v7i1.5262
Copyright (c) 2023 Rizka Ufliasari
This work is licensed under a Creative Commons Attribution-ShareAlike 4.0 International License.
Authors who publish with JIMPKS: Jurnal Ilmiah Manajemen Publik dan Kebijakan Sosial agree to the following terms:
Authors retain copyright and grant the journal right of first publication with the work simultaneously licensed under a Creative Commons Attribution License (CC BY-SA 4.0) that allows others to share the work with an acknowledgment of the work's authorship and initial publication in this journal.

Authors are able to enter into separate, additional contractual arrangements for the non-exclusive distribution of the journal's published version of the work (e.g., post it to an institutional repository or publish it in a book), with an acknowledgment of its initial publication in this journal.

Authors are permitted and encouraged to post their work online (e.g., in institutional repositories or on their website) prior to and during the submission process, as it can lead to productive exchanges, as well as earlier and greater citation of published work.