KEADILAN HUKUM DALAM PENERAPAN DISKRESI KEPOLISIAN GUNA PENGHENTIAN PENYIDIKAN TINDAK PIDANA KECELAKAAN LALU LINTAS PERSPEKTIF UNDANG – UNDANG NOMOR 2 TAHUN 2002
Ciptono

Universitas Riau Kepulauan Batam
Abstract views:
24
,
Keywords:
Justice, Discretion, Termination, Investigation
Abstract
ABSTRACT
This study aims to examine legal justice in the application of police discretion to stop the investigation of criminal acts of traffic accidents at this time, the problems and solutions of legal justice in the application of police discretion to stop the investigation of traffic accidents from the perspective of Law No. 2 of 2002. This approach method uses sociological juridical approach with qualitative methods supported by primary and secondary data. With the research specification is descriptive analytical, so that the deepening of the problem is very necessary. The results of this study concluded that: 1) In practice, Article 18 of Law Number 2 of 2002 concerning the Indonesian National Police which is the basis for police discretionary actions has not been used as a legal umbrella, although in practice many investigators have done so. 2) From the aspect of legal substance, in practice, discretion is applied to the field of traffic or other matters that have not touched the task of investigating and investigating criminal acts. From the structural aspect, it can be seen in the administrative practice of internal police investigations that have not accommodated, stopping criminal investigations on the legal basis of police discretion. Meanwhile, from the cultural aspect, the Police leadership has paid attention to the rise of traffic accidents with the category of minor and moderate accidents where the perpetrator and the reporter have peace and forgiveness and compensation is available to stop, but it has not become a legal product that can be used as a legal umbrella. national.
Keywords: Justice, Discretion, Termination, Investigation
References
Barda Nawawi Arief, 2015, Pembangunan Sistem Hukum Nasional Indonesia, Pustaka Magister Semarang, Semarang, 2015.

Ciptono, Penerapan dan Proyeksi Sanksi Pidana Dalam Tindak Pidana Kecelakaan Lalu Lintas, Genta Publishing, Yogyakarta, 2020.

Lawrence M Friedmann, System Hukum Dalam Prespektif Ilmu Sosial, The Legal System : A social Science Perspektive, Nusa Media Bandung, 2009.

Muhammad Junaidi, Teori Perancangan Hukum, Telaah Praktis dan Teoritis Penyusunan Peraturan Perundangan- Undangan, Universitas Semarang Press, Semarang, 2021.

Otje Salman dan Anton F.Susanto, Teori Hukum, Mengingat, Mengumpulkan dan Membuka Kembali, Refika Aditama, Bandung, 2008.

Surat Keputusan Kapolri Perkap Nomor 3 Tahun 2015 tentang Pemolisian Masyarakat;

Surat Kapolri No Pol: B/3022/XII/2009/SDEOPS, tanggal 14 Desember 2009 tentang Penanganan Kasus Melalui Alternatif Dispute Resolusion (ADR).

Perkap Nomor 15 Tahun 2013 tentang Tata Cara Penanganan Kecelakaan Lalu Lintas.

Surat Telegram Kapolri Nomor : ST/2981/XII/2017 tanggal 19 Desember 2017 tentang Penyelesaian Perkara Kecelakaan Lalu Lintas dengan Alternative Dispute Resolution.

Surat Telegram Kapolda Jateng Nomor : ST/2771/X/2015 tanggal 8 Oktober 2015 Tentang Beberapa petunjuk terkait penghentian penyidikan suatu perkara.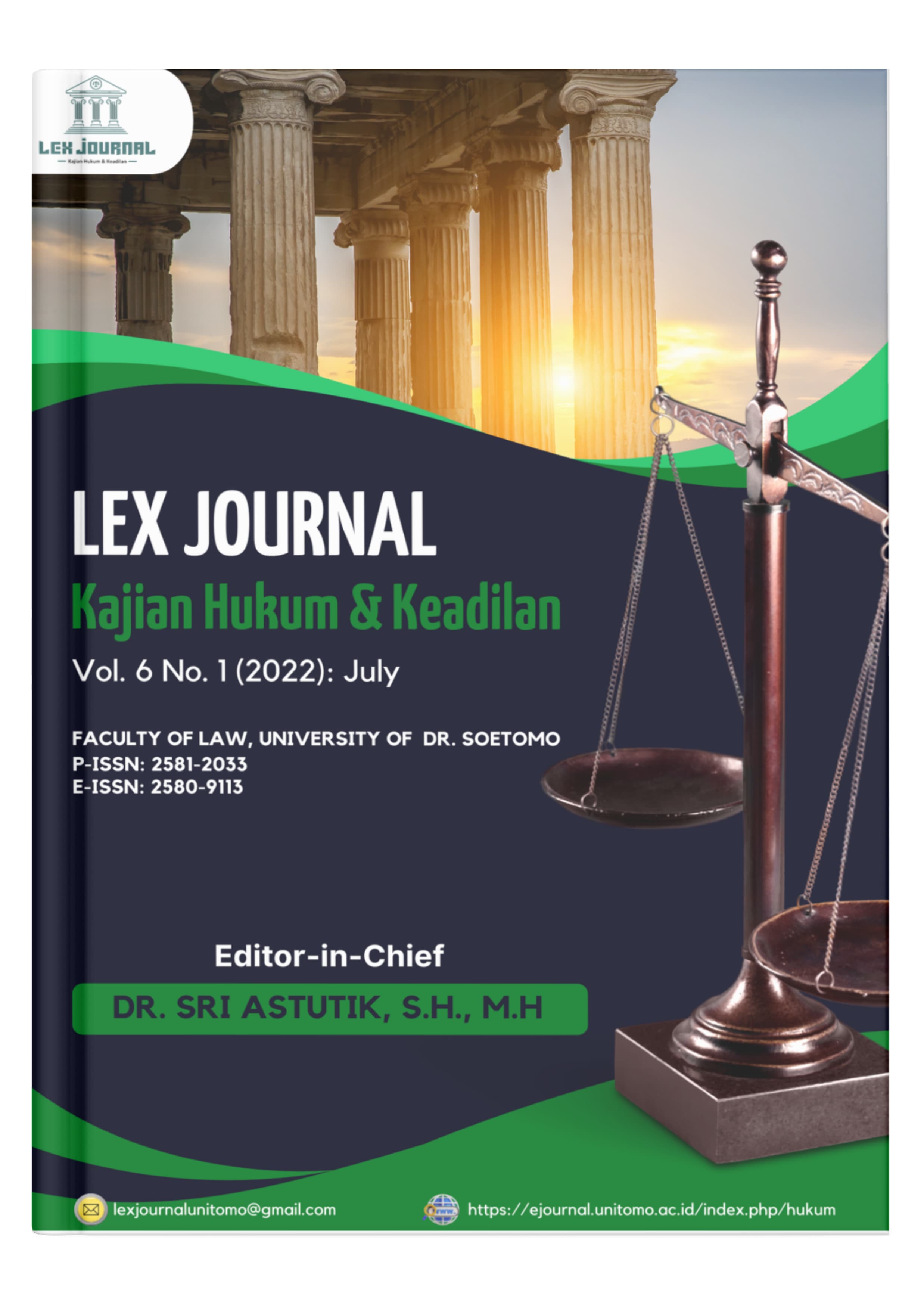 Copyright (c) 2022 Lex Journal: Kajian Hukum & Keadilan
This work is licensed under a Creative Commons Attribution-ShareAlike 4.0 International License.