KEBIJAKAN UU NO 1 TAHUN 2022 MENGENAI PERIMBANGAN KEUANGAN ANTAR PUSAT DAN DAERAH PASCA REFORMASI
Siti Hudza Ifa

Universitas Narotama

Rizky Pratama

Universitas Narotama

Bambang Arwanto
Abstract views:
251
,
LEX JOURNAL downloads:
1232
Keywords:
Policy, Regional Finance, Post Reform
Abstract
After the amendment, Regulation Number 25 of 1999 concerning Financial Balance between the Center and the Regions, but after the amendment of Regulation Number 33 of 2004 concerning Financial Balance between the Center and the Regions, the allocation of asset adjustments has moved to the dispersion of some normal assets in the area . The issue studied is where regional finance can increase and find sources of income which are expected to complement its independence as a result of the implementation of decentralization guidelines as adopted by the 1945 Constitution. The exploration technique used is essential literature studies, selected regulations and materials. tertiary legal materials, and the examination carried out is subjective standardization. With the issuance of the regulation on Fiscal Balance between the Center and the Regions after the amendment, it shows very large results for the implementation of provincial independence, considering that regional supporting sources are generally not solely based on PAD (Regional Revenue) results, but the regions also have different sources of initial funding from the regions, formerly only enjoyed by the central government.
Keywords: Policy, Regional Finance, Post Reform
References
Abdul Halim dan Muhammad Syam Kusufi. 2014. Akuntansi Keuangan Daerah. Edisi 4. Jakarta: Salemba Empat.
Agustina, Oesi. 2013. Jurnal Analisis Kinerja Pengelolaan Keuangan Daerah dan Tingkat Kemandirian Daerah di Era Otonomi Daerah: Studi Kasus Kota Malang (Tahun Anggaran 2007-2011). Jurnal Ilmu Ekonomi Fakultas Ekonomi dan Bisnis Universitas Brawijaya Malang.
Anggara Sahya. (2012). Ilmu Administrasi Negara. Bandung: Pustaka Setia.
Astuti, W. (2015). " Analisis Pengaruh Kinerja Keuangan Terhadap Pertumbuhan Ekonomi Dan Dampaknya Terhadap Pengangguran Dan Kemiskinan". Jurnal EBBANK Volume 6 No. 1 Juli 2015.
Candra dkk. 2015. Jurnal Analisis Rasio Keuangan Pemerintah Daerah dalam Pengelolaan Anggaran Pendapatan dan Belanja Daerah Kabupaten Jembaran (Tahun Anggaran 2010-2014).
Daling, Machelino. 2012. Jurnal Analisis Kinerja Realisasi Anggaran Pendapatan dan Belanja Pemerintah Kabupaten Minahasa Tenggara. Machmud dkk. 2014, Jurnal Analisis Kinerja Keuangan Daerah Provinsi Sulawesi Utara (Tahun Anggaran 2007-2012).
Dewi Asfiryati. 2017. Pengaruh Penerapan Sistem Akuntansi Keuangan daerah dan Penyajian Laporan Keuangan Terhadap Akuntabilitas Pengelolaan Keuangan Daerah Dengan Sistem Pengendalian Intern Sebagai Variabel Intervening (Studi Pada SKPD Kota Dumai). JOM FEKON, Vol. 4 No. 1 (Februari), ISSN:2355-6854.
Dwiyandari, Y. D. L., & Badera, N. D. I. (2018). "Pengaruh Kinerja Keuangan pada Belanja Daerah dan Pertumbuhan Ekonomi dan Implikasinya pada Indeks Pembangunan Manusia". E-Jurnal Akuntansi Universitas Udayama, Vol. 22, 3 Maret 2018.
Eka Suprihastini, Akram dan Budi Santosa. 2017. Effect of Regional Financial Accounting System, Internal Control Systems and Regional Financial Audit on Financial Accountability of Local Government. International Conference and Call for Papers, Jember.
Embun Widya Sari. 2017. Pengaruh Sistem Pengendalian Intern, Penyajian Laporan Keuangan, Aksesibilitas Laporan Keuangan Dan Gaya Kepemimpinan Terhadap Transparansi Dan Akuntabilitas Pengelolaan Keuangan Daerah Di Kabupaten Indragiri Hulu. JOM Fekon Vol. 4 No. 1 (Februari), ISSN:2355-6854.
Faiz Zamzami, Ihda Arifin Faiz, Mukhlis. 2018. Audit Internal, Konsep dan Praktik. Yogyakarta: Gadjah Mada University Press.
Faiz Zamzami, Mukhlis, Anissa Eka Pramesti. 2018. Audit Keuangan Sektor Publik Untul Laporan Keuangan Pemerintah Daerah. Yogyakarta: Gadjah Mada University Press
Handri, Y.P., Rifa, D., dan Rahmawati, N. 2014. Pengaruh Penyajian Laporan Posisi Keuangan, Aksesibilitas Laporan Keuangan, Dan Sistem Akuntansi Keuangan Daerah Terhadap Transparansi DanAkuntabilitas Pengelolaan Keuangan SKPD. Jurnal, UniversitasBung Hatta.
Hardina Sari Putri. 2018. Akuntabilitas Pengelolaan Keuangan Daerah (Studi Pada Badan Pengelolaan Keuangan Dan Aset Daerah Pemerintah Kabupaten Bintan) . Jurnal Universitas Maritim.
Mahmudi. 2014. Manajemen Keuangan Daerah. Jakarta: Erlangga. Pramono, Joko. 2014. Analisis Rasio Keuangan Untuk Menilai Kinerja Keuangan Pemerintah Daerah. Among Makarti,Vol.7 No.13, Juli 2014.
Peraturan Menteri Dalam Negeri Nomor 13 tahun 2006, Tentang Pedoman Pengelolaan Keuangan Daerah
Peraturan Menteri Dalam Negeri Nomor 59 tahun 2007. Peraturan pemerintah No 58 Tahun 2005 Tentang Pengelolaan Keuangan Daerah
Sarman & Mohammad Taufik Makarao, Hukum Pemerintahan Daerah di Indonesia, Rineka Cipta, Jakarta, 2014.
Undang-Undang Dasar Negara Republik Indonesia Tahun 1945 Undang-undang Nomor 25 Tahun 1999 tentang Perimbangan Keuangan Antara Pusat dan Daerah
Undang-undang Nomor 33 Tahun 2004 tentang Perimbangan Keuangan Antara Pusat dan Daerah
Yuswanto, Hukum Desentralisasi Keuangan, Raja Grafindo Persada, Jakarta, 2012.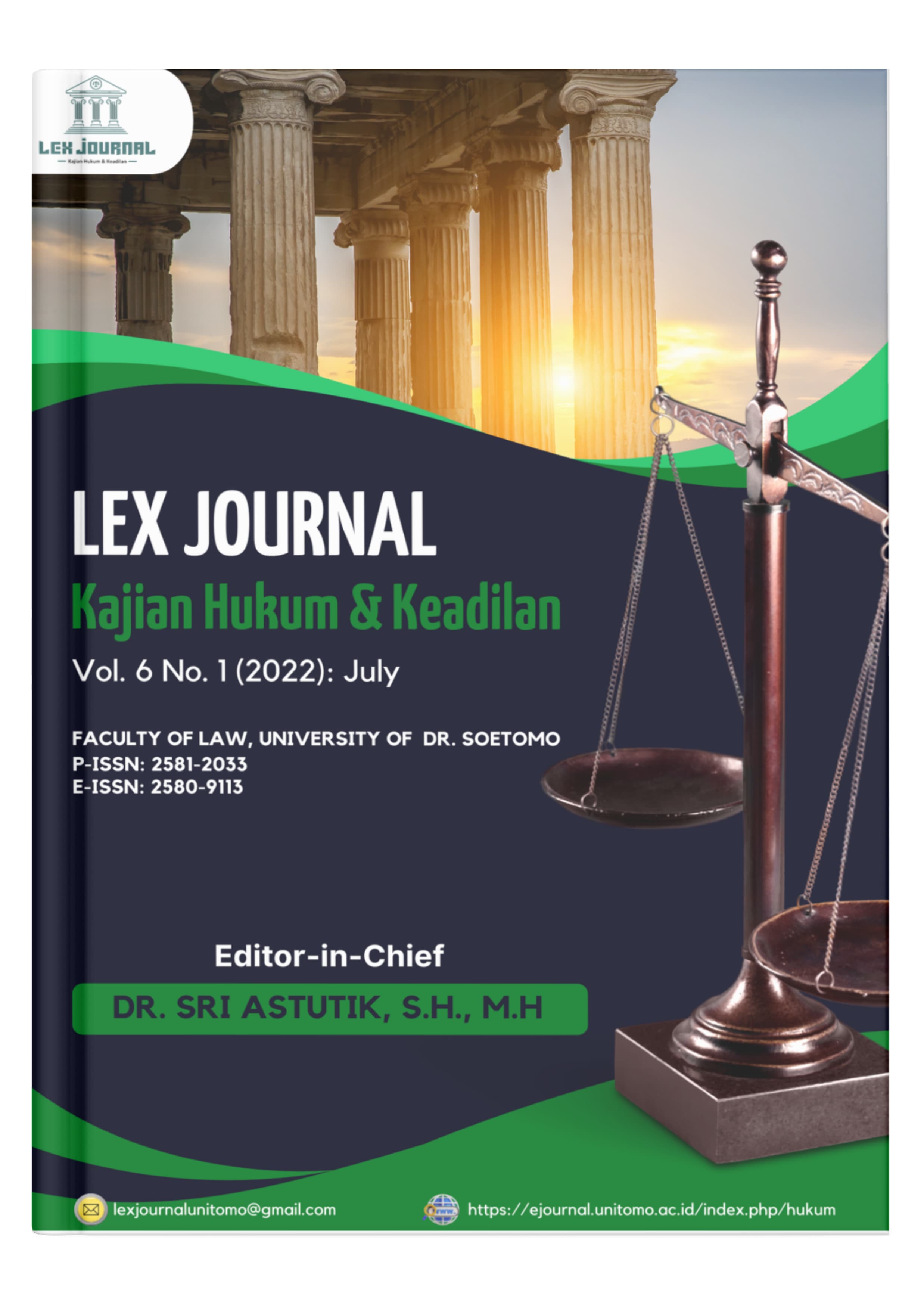 Copyright (c) 2022 Lex Journal: Kajian Hukum & Keadilan
This work is licensed under a Creative Commons Attribution-ShareAlike 4.0 International License.