Vol. 2 No. 1 (2019): J-HESTECH (Journal Of Health Educational Science And Technology)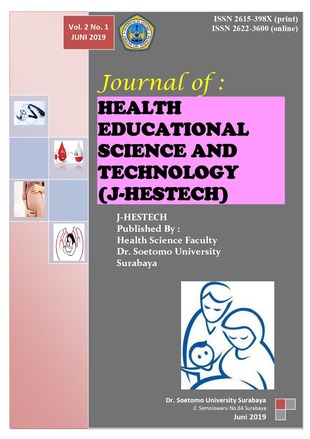 Fokus pada bidang ilmu kesehatan dan aplikasi teknologi dalam bidang medis. Bidang-bidang yang dapat didiskusikan antara lain :
(1) Kesehatan Ibu dan Anak,
(2) Maternity (Persalinan, Nifas, Kehamilan dan Menyusui),
(3) Keluarga Berancana,
(4) Promosi Keehatan dan Gaya Hidup,
(5) Teknologi Pengolahan Darah (serologi Darah, Manajemen tata kelola kepalangmerahan),
(6) Kesehatan Reproduksi,
(7) Kesehatan dan Nutrisi,
(8) Etika Kesehatan dan Regulasi,
(9) Kesehatan Lingkungan dan Ketenagakerjaan,
(10) Farmakologi, Radiologi, dan Medical Record.